Best Budget Eats in Berlin, for Breakfast, Lunch, and Dinner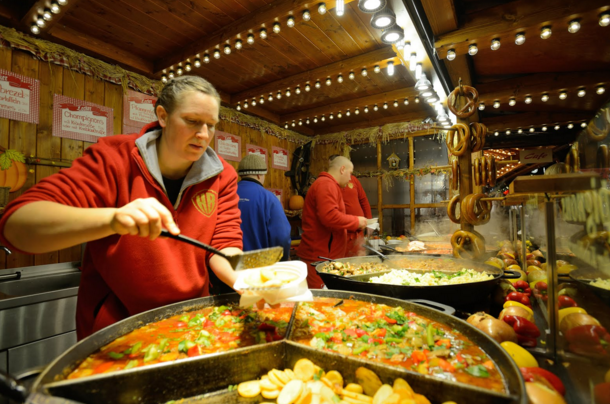 Here at Touriocity we are passionate about connecting people with truly bespoke city tours and expert local guides. You can visit us at touriocity.com, connect with our Tour Concierge, for free advice by filling out our simple request form. We then plan the perfect itinerary, matching you with one of our expert local guides.
We just love to share our insider knowledge of the cities we tour in and Berlin, the heart of the german culinary culture and tradition is no exception. Read on to discover some surprisingly affordable eateries, serving some of the best breakfast, lunch and dinner in all of Berlin.
Breakfast
The Future Breakfast
The Future Breakfast is a fantastic food truck that specialises in excellent, locally source breakfast, and in fact some of the most affordable in Berlin. You will find them in front of Acud in Mitte during the week and at various food markets such as Markthalle 9 and Bite Club at the weekend. You must try their beautiful poached eggs, crispy bacon and avocado salad. Fantastisch
The Future Breakfast Food Truck, Veteranenstr. 21, 10119 Berlin. Mon-Fri 9am-4pm. At various food markets and events, check their FB page for their service schedule.
Distrikt Coffee
Distrikt Coffee is a new and incredibly popular coffee shop and eatery, in the heart of trendy Mitte. If you are in the area you must pop in, where you will be delighted by thoroughly modern decor, friendly service and a small, yet truly exceptional menu, including banana bread, toast with avocado, scrambled eggs, granola and buttermilk pancakes.
Distrikt Coffee, Bergstraße 68, 10115 Berlin-Mitte. Open Mon-Fri 8.30am-6pm, Sat-Sun 9.30am-6pm.
Fleury
This is a quintessentially French in style cafe and has fast become one of the most popular spots in Berlin. Their breakfast platter full of specialty products from France and the Alpes is to die for and incredibly affordable. Why not be naughty and also sample their Croque Monsieur and the Rhubarb tarte.
Fleury, Weinbergsweg 20, 10119 Berlin-Mitte. Open Mon-Fri 8-22h, Sat & Sun 9:30am-8pm
Lunch
Curry 36
A fantastic and incredibly popular snack bar right in the centre of Kreuzberg, south of Mitte. Here you will find the eponymous currywurst mit und ohne darm- meaning boiled and without the skin. Absolutely delicious and warming as you wander the streets of Berlin. You will also find many other German delicacies such as traditional bockwurst, krakauers, schnitzel and boulette.
Mehringdamm 36, Kreuzberg, www.curry36.de. Mon- Sun 9am-5pm. Currywurst €2.50
Hamy Cafe
Conveniently located between Kreuzberg and Neukölln, this is a lovely and incredibly busy Vietnamese canteen-style fast food restaurant, complete with a lovely atmosphere and super quick service. The food here is incredibly fresh, simple and utterly delicious. Try the pho ga chicken soup, the pho bo beef soup, or the sensationally fresh and crunchy goi mien noodle salad. Perfect for a quick lunch or after a long day sightseeing.
Hasenheide 10, Kreuzberg/Neukölln, +49 30 6162 5959, hamycafe.com. Mon-Sun 12pm-12am. Main dishes start at €4.90.
Dinner
The Bird
Wow! The Bird offers up amazing beef steaks, a fantastic range of burgers, and all the hearty sides you would expect from a proper New York style steakhouse. Located in the north of trendy Prenzlauer Berg, this is an incredibly affordable dining experience perfect for the whole family and will be sure to leave you feeling perfectly sated and absolutely stuffed. We love the Fat Stingy Gonzales served with freshly made Guacamole and Salsa Verde. Köstlich!
Am Falkplatz 5, Prenzlauer Berg, +49 30 5105 3283, thebirdinberlin.com. Burgers start from €11.50.
Henne Alt Berliner Wirtshaus
Famous throughout Berlin, Henne Alt Berliner Wirtshaus is very traditional restaurant serving up classic Berlin dishes. The star on their menu has to be their supreme 'half-a-hen' grilled chicken with potato salad and bread. A mountain of food yes, but so mouth wateringly delicious that you will want to take it home with you. When you visit, look out for the signed photo of John F Kennedy, who visited the restaurant just after his famous speech to Berlin in 1963.
Leuschnerdamm 25, Kreuzberg, +49 30 614 7730, henne-berlin.de. Tues-Sat from 7pm, Sun from 5pm. Half a chicken starts from €7.90.
Burgermeister
This restaurant does pretty much what it says on the tin. With six types of hamburgers this is a great place for meat eaters, and with a beautifully seasoned tofu burger- vegetarians will also be happy. For those who eat meat, try the meistaburger, brimming with mustard, onion, bacon and barbecue sauce, with a side of hand cut cheesy fries. What is lovely about this place is that the food on offer including sauces are made with fresh ingredients.
Oberbaumstrasse, U1 Schlesisches Tor station, Kreuzberg, burger-meister.de. Mon-Thurs 11am-2am, Fri-Sat 11am-4am, Sun 3pm-2am. Burgers start from only €3.50.
We hope we have whetted your appetite for Berlin. If you are interested in taking a culinary tour with one of our expert city guides, why not fill out a request on Touriocity now and get competitive prices sent straight to your inbox.