The following is a guest post by Isabel Clift.
Berlin is a real playground if you're in your twenties: food, drink and travel are cheap, and there's a wealth of DIY art galleries, underground clubs and cafes to explore. No cheesy check-box sightseeing here, either: Berlin's raw recent history gives edge and immediacy to its landmarks.
Landmarks to see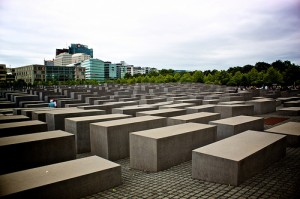 Holocaust memorial: A tight, oppressive grid of concrete blocks you walk between, whose sides grow taller the deeper you go: the Peter Eisenman-designed Holocaust Memorial is a masterpiece whose effectiveness will shock you.
The Wall: A remaining section of the Berlin Wall runs along Mühlenstraße near Oberbaum Bridge. It's been nicknamed the East Side Gallery after being covered with graffiti art.
TV Tower: This GDR-era '60s landmark on Alexanderplatz looks like it was drawn by a Jetsons cartoonist. Climb to the observation deck for the highest views in the city.
Babelplatz book-burning memorial: The less you know before you go, the more poignant this is. Go to Babelplatz at night, walk towards the light shining up from the middle and look down…
Clubs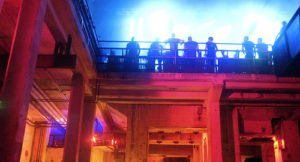 Berghain/Panorama bar: A Friedrichshain power station turned clubbing Mecca, Berghain operates a strict door policy and confiscates cameras on arrival. If you do make it in, expect Bladerunner-style surroundings and relentless, vocal-chord-shaking minimal techno played til 3pm Sunday (yes, you read that right).
Golden Gate: You know a club's intimate when you feel like you've stumbled in on a particularly grimy house party. Found behind an unmarked door underneath a railway bridge on Dircksenstrasse, drinks are cheap and the dancefloor's sweaty.
Watergate: Your go-to for sleek and stylish clubbing on the Spree. Grab a breath of fresh air on the floating terrace and be mesmerized by the giant, glowing Universal logo on the opposite bank.
Restaurants, bars and cafes
Breakfast: The Soviet-themed Gorki Park serves a fine 'worker and farmer' breakfast platter for two including fresh potato pancakes, salmon caviar and blini rolls.
Lunch: Eat lunch in former factory Michelberger Hotel's shabby-chic courtyard; think fresh European fare like seasonal veg risotto and spicy tagines.
Dinner: Want a glass of wine with your dinner? At Weinerei you rent a glass for EUR 1.50, then sample from a range of bottles. Soak it all up with a buffet of German fare made with organic ingredients, and pay what you think you owe at the end.
Takeaway: Hipster takeaway Angry Angry Chicken serves finger-lickin' Korean chicken at varying spice levels: friendly, sexy, angry and furious. Brush the crumbs off afterwards and duck through an unmarked door at the back to secret bar Soju.
Shops
Voo: Indicative of the area's slide from grit to gentrification, Voo is a fancy new concept store off Kreuzberg's main drag Oranienstrasse. Pick up threads from Acne, Pendleton, Wood Wood and Surface to Air, plus books and artisan cosmetics.
Made in Berlin: With several outlets around the city, Made in Berlin specializes in affordable vintage edited with an eye on current trends. Perfect if you love vintage but hate rummaging.
Parks
Mauerpark: Join the crowds every Sunday for amphitheater karaoke, flea-market riffling and impromptu beers 'n' barbeques.
About the author: Isabel Clift (@Isabel_Clift) is a London-based travel blogger for AnyTrip, the budget travel specialists – check out their selection of cheap Berlin hotels. A fan of all things currywurst and techno, Isabel's got into the habit of visiting Berlin at least once a year.
A message from our sponsors: Looking for luxury villas for a family or romantic getaway this season? Then go to LaCureVillas.com to browse 1000+ luxury rentals in 29 countries, including Cabo San Lucas and Caribbean Villas.