The island of Lesvos is a gem of a genuine Greek experience, nearly untouched by the commotion of mass tourism that makes so many of the other islands feel almost like amusement parks.  The third largest of the Greek islands, Lesvos is a peaceful destination perfect for off-the-beaten-track travelers. Here you'll find gorgeous natural landscapes, activities of all sorts, and some of the best food and friendliest people in Greece… to name a few! Make sure you rent a car in Lesvos, giving you the ultimate freedom to explore one of the most beautiful islands in all of Greece. Here some experiences not to be missed on this jewel of an island: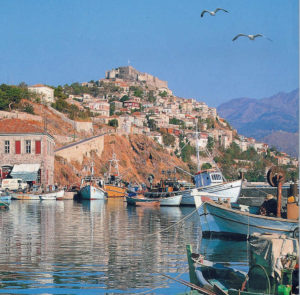 Molyvos Town and Castle- The town of Molyvos consists of stone houses and shops surrounding the majestic castle from Byzantine times- one of the best-preserved in the Eastern Mediterranean. Climb to the top of the fortress for unparalled views, and look for concerts and cultural events up here in summer months. Afterward, visit the working fishing harbor for a seafood meal with a lively atmosphere.
Eftalou Hot Springs After visiting the castle at Molyvos, visit the nearby Eftalou hot springs for a healing bath said to cure all kinds of afflictions. The spa is located right on the beach, so you can enjoy the beautiful scenery while soaking in the hot mineral water- either in communal baths or private tubs.
Petrified Forest of Lesvos For an interesting venture into natural history, check out the Petrified Forest on the western tip of the island. Beautiful stone trunks have been preserved for over four million years, creating a rare geological site. The Natural History Museum here provides fascinating information about the area.
Rent Bikes With over 400 miles of paved roads, Lesvos is an island begging to be explored by bicycle! For ambitious cyclers, you could visit almost every town and village this way within a few weeks. Don't forget to stop in Plomari- this town is the home of ouzo, the anise-flavored Greek liquor sure to dizzy you up before your next ride!
Birdwatching The island's varied landscape is the perfect habitat for countless species of birds (and wildflowers)- making Lesvos one of the best spots for birdwatching in Europe! The beach town of Skala Kaloni sits in a lush valley, attracting all sorts of birds from flamingos, storks and so many others. Skala Kaloni is also a great spot to enjoy sandy beaches and an active port town.