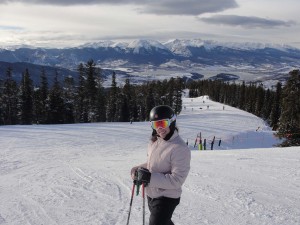 Colorado is my favorite place on earth (other than Santorini). I grew up going to Estes Park every summer, with some spring breaks in Aspen. I've also visited Durango, Boulder, Keystone, Breckenridge, and more.
What do I love about it? The fresh, crisp mountain air is intoxicating, and the verdant scenery is breathtaking. Soaring peaks, sparkling lakes, massive valleys. Wildlife is abundant. Our main activity in Estes Park was hiking in the stunning Rocky Mountain National Park. I have also gone white water rafting and skiing in Colorado.
Vail Resorts owns the famous Colorado resorts of Keystone, Breckenridge, Vail, and Beaver Creek. They also own two ski resorts in California, North Star-Tahoe and Heavenly. The Vail Resorts team makes a stop in Austin each year, and I joined them recently for the third year in a row to learn about developments at the resorts this winter. I thought a lot was happening last year–in December, my husband and I went to Keystone for a few nights and went out to Breckenridge for the day (see my posts from day 1, day 2, and day 3). But this year is also full of fun events, great deals, and new things to do.
Epic Pass
Skiing is not cheap, so I was happy to hear that this year, their Epic Pass is an amazing deal. It's $649 per person for unlimited, unrestricted skiing at ALL of their resorts (Colorado and California), all winter season. While that may sound like a lot at first, a seven-day pass is $499, so it's actually a fantastic price for unlimited skiing at six resorts in two states! This year, $5 from each Epic Pass will go toward St. Jude Children's Research Hospital, Shaun White's charity of choice.
EpicMix app
Their EpicMix app now lets you take and share photos (it works on iPhone and Android). This innovative smartphone app that was new last season is free when you buy the Epic Pass. Your pass is scanned when you ride a lift, and the app keeps track of your ski paths, vertical feet skied, days skied, and more. You can earn pins and share your stats on Twitter and Facebook. If you're skiing with friends, you can also use it to track where they are on the mountains and use it communicate for a meet-up point. So cool.
Here are just a few of the cool new developments at the Colorado resorts. There's plenty more at the California resorts, such as a partnership with Shaun White, but I don't want to make this too long, and I'm a Colorado girl!
Beaver Creek:
This resort is famous for serving fresh-baked cookies at 3 p.m. to skiers on the slopes. They're launching their 8th annual Chocolate Chip Cookie Competition. Anyone can turn in a recipe, and submissions are due by Oct. 21. Judges will select five finalists, and on Nov. 23, locals and guests can eat the cookies and vote for their favorite. The winner will win a cash prize of $1,000, and their recipe will be the official Beaver Creek cookie for the year.
This December, they are opening the new Rose Bowl high speed Doppelmayr quad chairlift. Transporting 2,400 people per hour, the new side-load chair's ride time will be nearly cut in half at five-and-a-half minutes. This means more ski time!
Breckenridge: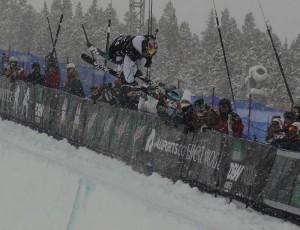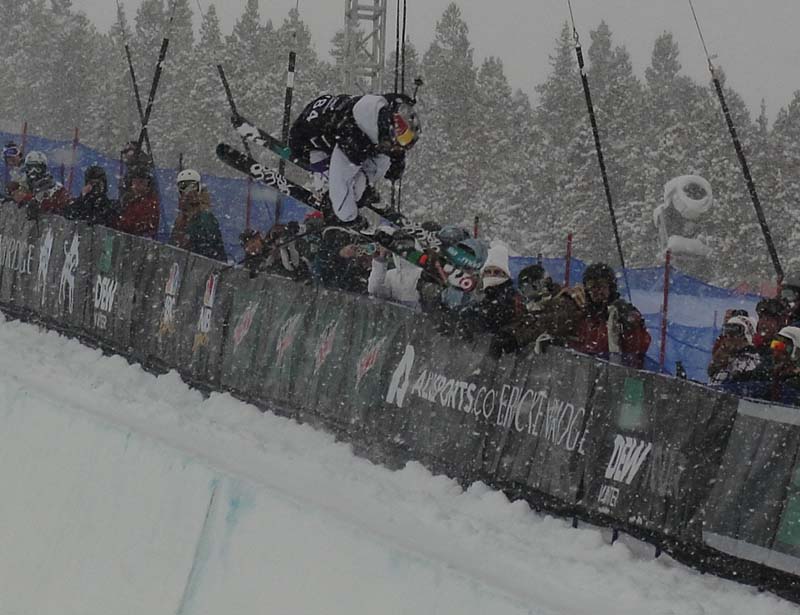 The resort is celebrating it's 50th anniversary this year. Leading up to opening day on Nov. 11, they are doing "50 Days of Getaways." As it gets closer, the prizes get better. Prizes are given out through their Facebook page, so go there and like it to be eligible.
Another way they are celebrating the 50th anniversary is giving 50% off stays in the Village of two nights or more from opening day until Dec. 15. Book on their website.
Breckenridge Gold Runner Alpine Coaster! New on Peak 8 between two ski runs, The Gold Runner twists and turns down 2,500 feet of elevated rollercoaster and speeds through hairpin curves, twists, and dips at a maximum speed of 30 mph. You control the speed of the two-seater car, so you can take it easy navigating the corners as well. It will operate in summer and winter.
They are hosting the Dew Tour from Dec. 15-18, an extreme winter sports competition. I went last year and it was a blast! There will also be International Snow Sculpture Championships in January.
Vail:
On Dec. 1, a highly-anticipated new table-service restaurant, "The 10th" is opening. It's a ski-in, ski-out restaurant. The name, is a nod to the veterans of the 10th Mountain Division, many of whom, including several of Vail's founders, became involved in the ski industry upon returning from World War II and dramatically influenced the development of skiing in the United States.
There are also two new restaurants opening up in the town of Vail. One is Elway's, named after former Denver Bronco quarterback and NFL Hall of Fame Inductee John Elwaywide. It will serve an array of steaks and seafood as well as its terrific atmosphere and nightlife. The other is Matsuhisa, which is part of the Nobu brand. This will be only the fourth Matsuhisa location, and it serves traditional Japanese cuisine infused bold South American and Western flavors.
Vail Snow Daze: From Dec. 5-11, early season skiers will enjoy a week of live entertainment from headliners like Weezer, O.A.R., Dwight Yoakam and Mix Master Mike, plus contests, parties and giveaways throughout town.
Keystone:
This year, there will be a brand-new Dercum Square Ice Rink in River Run Village (where the slopes are). It's 7,200 square feet and has day and night skating. It's free, though there is a charge to rent skates.
The resort's award-winning pastry chef sculpts a miniature alpine village every December from 2,500 pounds of imported chocolate at the Keystone Lodge & Spa. I saw it last year in person, and it was unbelievable. She adds on more each year, so there will be something new this December.
Adventure Point Tubing: One of Colorado's best tubing spots is at the summit of Dercum Mountain at Adventure Point. With a good pitch and long runout, the park's four tubing lanes are fast and fun. Snow biking is also available at Adventure Point. New this year–every Thursday is Disco Tubing night, so get ready to dance!
Have you been to any of the Vail Resorts? What did you think?