The abundant natural beauty and excellent weather of Australia and New Zealand make this region a natural choice for those wishing to experience a top-quality cruise vacation. The ports of call feature activities such as wine tasting at various vineyards, exploration of historic settlements, snorkeling on the Great Barrier Reef and witnessing up-close the colorful marine life, sea flora and coral reefs. Cruise deals from Sydney are readily available for those desiring to embark on a memorable cruise to places "down under." Listed below are five different cruise selections for aspiring travelers to consider to to use to gain inspiration.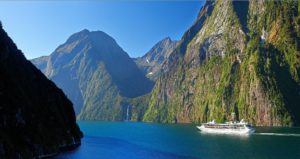 1. Two-Night Cruise From Sydney to Brisbane
Those visiting Australia can take advantage of short cruise offerings during their stay. This two-night cruise from Sydney to Brisbane offered by Princess Cruise Lines is an excellent way to sample and Australian cruise while traveling from Sydney to Brisbane. Short cruises from Sydney to Melbourne are also available.
2. Ten-Night Luxury Cruise With Orion Expedition Cruises
Luxury lovers can depart on this cruise at Darwin in the Northern Territory and sail to Broome in Western Australia. Ports of call include Wyndham, Vansittart Bay, Montgomery Reef, Talbot Bay, Nares Point and Crocodile Creek. All entertainment and meals are on-board the ship, and 24-hour room service is available.
3. Barrier Reef Cruises
Scuba diving, snorkeling and swimming in the clear waters of the Barrier Reef are among the attractions available to passengers on cruise ships exploring this particular region. Nature lovers will have an unforgettable experience viewing the colorful marine life, tropical islands and ancient rainforests of the area. Captain Cook Cruises features smaller ships with the ability to access places where the larger ships can't go. Three, four and seven-night cruises are available with this company.
4. Food and Wine Cruises in New Zealand
Themed cruises have been growing in popularity for years, and modern travelers are booking food and wine cruises with more frequency than any other type of themed cruise. The Pacific Pearl of P&O Cruises features several world-class dining options, classes on wine tasting, cocktail crafting and an outdoor circus arena on the upper deck. Onshore excursions include visits to the tasting rooms of Auckland's renowned wineries and walks in the forest.
5. See Both New Zealand and Australia With a 17-Night Cruise
Travelers with plenty of time who want to experience both countries can book a 17-night cruise with Royal Caribbean that begins in Auckland, new Zealand, and ends in Sydney, Australia. Ports of call include Brisbane, Airlie Beach, Willis Island, Cairns and Newcastle. Land excursions include a walking tour of the city of Newcastle, tours of Hunter Valley and a visit to the Australian Zoo in Brisbane. Traditional as well as flexible dining options are offered by this cruise line, and those wishing for casual-but-quality dining can take advantage of the the convenient buffet cafe. Guests can also relax and rejuvenate in the ship's on-board luxurious day spa or take fitness classes at the ship's state-of-the-art fitness center.