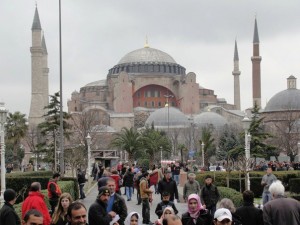 Please note that I wasn't paid to write this. I don't do sponsored posts.
When most of us decide to travel somewhere new, we buy travel guidebooks from companies like Lonely Planet, Frommer's, and Fodor's. I have purchased books from all three of those publishers, and while they have all been very helpful, they often don't go as in depth about culture and history as I would like.
A company called Approach Guides produces cultural travel guidebooks that provide deeper insight than the mainstream books. Jennifer Raezer of Approach Guides contacted me when she found out I was traveling to Istanbul a few months ago, and she told me she thought Approach Guides would offer a different perspective on Istanbul than other guidebooks.
According to Jennifer, Approach Guides' cultural travel guidebooks provide detailed reviews of the art, culture, and architecture of sites throughout Italy, India, China, Turkey, Southeast Asia and the Middle East. All Approach Guides are offered as PDF files that can be downloaded and printed immediately after you buy them. Some can also be bought for reading on the Amazon Kindle, and they currently have an Italy wine guide for the iPhone.
Jennifer emailed me an ApproachGuide titled "Hagia Sophia and its Islamic Architectural Legacy." Sure, that might sound a little boring at first, but I'm an architecture nerd, and Hagia Sophia (or Aya Sofia as they call it over there) is a centuries-old architectural marvel that has changed from a basilica to a mosque to a museum. To me, it is one of the most architecturally fascinating structures on earth. The 16-page PDF book is jam-packed with the complex history and significance of Hagia Sophia, the story behind the mosaics, the originals of the basilica plan, the themes of Ottoman architecture, and more. While it is quite dense and text-heavy, there are also quite a few images.
If you just want a basic introduction to Istanbul's major sites, you're better off with a general guidebook. But if you want a more in-depth look at the history, architecture, and cultural significance of something as important as Hagia Sophia, it's a pretty incredible resource. I recently did some research on Hagia Sophia for a guest post I wrote for TravelIntelligence.com, and it was hard getting straight facts; most sites I found had vague and confusing timelines along with some seemingly conflicting information. The Approach Guide streamlines all the information I wanted to know (and then some) in one place.
Some of the other titles they provide that look interesting to me are "East-West Trade Connections," "Ancient Buddhist Caves in India and China," "The Temples of Java," "The Architecture of Venice," and of course, "Buon Appetito! Italian Food Guide."
Here are the benefits of Approach Guides, taken from the email from Jennifer:
Complement traditional guidebooks. Approach Guides provide detailed cultural information on specific sites, filling a gap left by traditional guidebooks (necessarily) that must cover all aspects of a destination.
Provide historical context. Instead of simply listing dates and facts, Approach Guides give history meaning by examining the linkages among profiled cultural sites.
Organized for quick reference. All Approach Guides follow an easy-to-read, bullet-point format, so readers can process the information quickly and don't miss anything.
Affordable. Approach Guides range in price from $3.99 to $5.99 and are backed by our 100% satisfaction guarantee.
Lightweight. As carrying around a heavy guidebook can be cumbersome, we chose to distribute Approach Guides in PDF format, so that users can either print only the pages they want or upload the PDF to their smartphone and read it on location.
Have you ever used an Approach Guide? If not, would you?