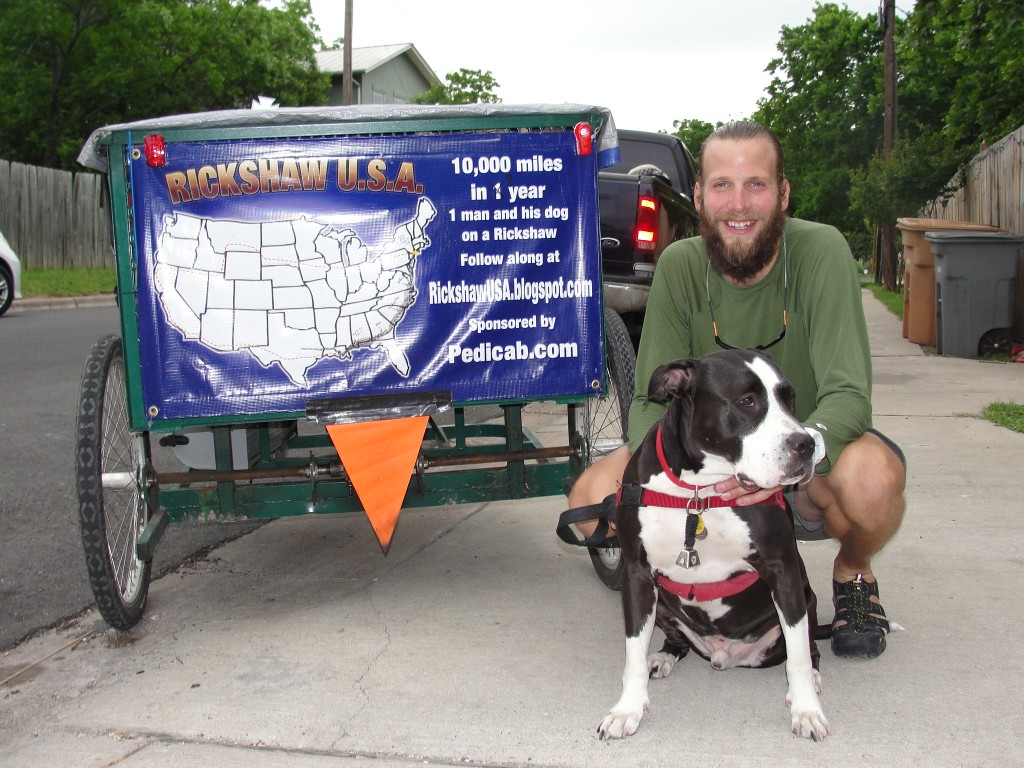 I'm not sure I believe in fate, but I couldn't believe my luck when I had a chance encounter with Sean Robinson, the man behind Rickshaw U.S.A.
I live in a duplex in an artsy area of Austin, and my next-door neighbors are a nontraditional, free-spirited family. Last weekend, they had an art show and party in our front yard. One of their guests was 31-year-old Sean Robinson, a man who is biking across America in a rickshaw with his dog, Cooper. His goal is to bike 10,000 miles in one year. They have been on the road for seven months and are spending some time in Austin to regroup and wait out the summer heat before they head out again.
When I met him, the former journalist in me didn't skip a beat—I grabbed my notebook and camera and asked him for an interview. We sat down together on my lawn with his massive, sweet dog and I had the privilege of hearing his story straight from his mouth.
"I had never done anything like this before. I was a suburbia kid," Sean said. After serving in the army for five years, he decided to attend culinary school and managed to land some top-notch chef gigs in New York City. "I worked at some of the best restaurants in New York, but I wanted something more," he said. "I knew there was more out there than this."
He was inspired by "A Walk Across America," (affiliate link) a biography of a man who decided he wanted to learn more about America and his fellow citizens, so he took it upon himself to literally walk across the country and meet people all over. A friend gave me a copy of it in high school, and it's a fabulous read. Robinson was inspired enough by it to name his dog Cooper after the man's beloved dog in the book. Sean decided he wanted to do something similar and made it happen. Main Street Pedicabs in Colorado donated a rickshaw to him; this gives him plenty of room for basic belongs, and it also allows him to bring Cooper along for the ride.
"People wish and dream about doing this, but I really wanted to do it. I'm trying to get a good idea of what this country is made of and what the people are like," he said. When he started out, he had a planned itinerary, but as he puts it, "it quickly went to shit." He decided to throw many of his plans out the window. "When you're traveling, you have to just go with the vibe. The best encounters I've had and the best people I've met are because I let fate and the universal power just take me where it wanted me to go." For aspiring vagabonds or travelers, he says, "Set the date and do not deviate. That's where most people fail. Just get on the road."
Sean says he used to be plagued by money problems. A friend told him that money can bring you stress like no other, and that when you let go of that, things open up. When Sean let go of financial woes, support from other people poured in.
Sean will accept help when it's offered, but he acknowledges that he chose to be unemployed and homeless. He doesn't want other people to feel responsible for him. "When I show up somewhere, I only ask for water and directions," he says. Despite this, he has had major success with getting by on the generosity of strangers. He believes that "positive thoughts bring positive results," and he is a big believer in karma.
"All I have is time—and I have a lot of time—so because people have helped me, I will start volunteering wherever I go to give back what I have." He just has good energy and genuinely kind spirit. One of the party guests who works at a sign company came up to Sean while I was talking to him and offered to replace the aging vinyl sign on his rickshaw that says who he is and what his mission is (and has a cool map of his path) with a free brand new sign. Before he left, I gave him a big sack of dog treats for Cooper. I loved the fact that he wasn't asking for anything, but graciously accepted the things he did receive.
Sean told me that he struggles sometimes. He and Cooper often do what he calls "stealth camping" to avoid spending money. "We try to keep our footprint light," he says. "We are very respectful; after we leave, there is no real evidence of us except for the tent marks." While it usually goes well, they once got kicked out of the state of Mississippi for camping illegally.
I asked Sean if he ever regretted leaving his life behind and hitting the road. "I love what I'm doing," he said. "There were a few nights in Florida with very cold temperatures, around 7 degrees, and we were shivering in our tent. But I had a grin on my face. I wouldn't trade this for anything. I have the greatest job in the world."
Sean will be in Austin for several months, and his next stops will be New Mexico, Arizona, California, and Nevada. He makes updates on his blog, so be sure to keep up with him! He does have a PayPal link on the site should someone choose to donate.