Earlier this month, I went to Savannah, Georgia for the first time for a wedding. I live in Texas, and while people here definitely have Southern hospitality, we aren't quite "the South." New Orleans is the closest I've gotten to it, and both Savannah and New Orleans ended up really reminding me of each other. It had true Southern charm and made me wish we had more time to explore.
It was a pathetically quick two-night trip. We arrived late on a Friday night and flew out at the crack of dawn on a Sunday. But the wedding was on a Saturday night, giving us the afternoon to explore the city's Historic District. We stayed at the Four Points by Sheraton at the edge of the Historic District; it was very affordable, very nice and clean, and a pretty short walk to great bars and restaurants. It wasn't as central as some of the other hotels, but it was just fine.
I enjoyed Savannah's ornate architecture and incredible American history. We kept stumbling upon plaques that told of the events that took place in the city. In certain areas, I felt like I was transported back in time. Many of the beautiful older homes are now B&Bs, and while I really wanted to stay at one, the group rate at the hotel was just too good. Next time, I definitely plan to stay in one of these historic inns.
I was told by several people before I went that Savannah was known for its wide streets shaded by large, mossy trees. It was more beautiful than I could have imagined: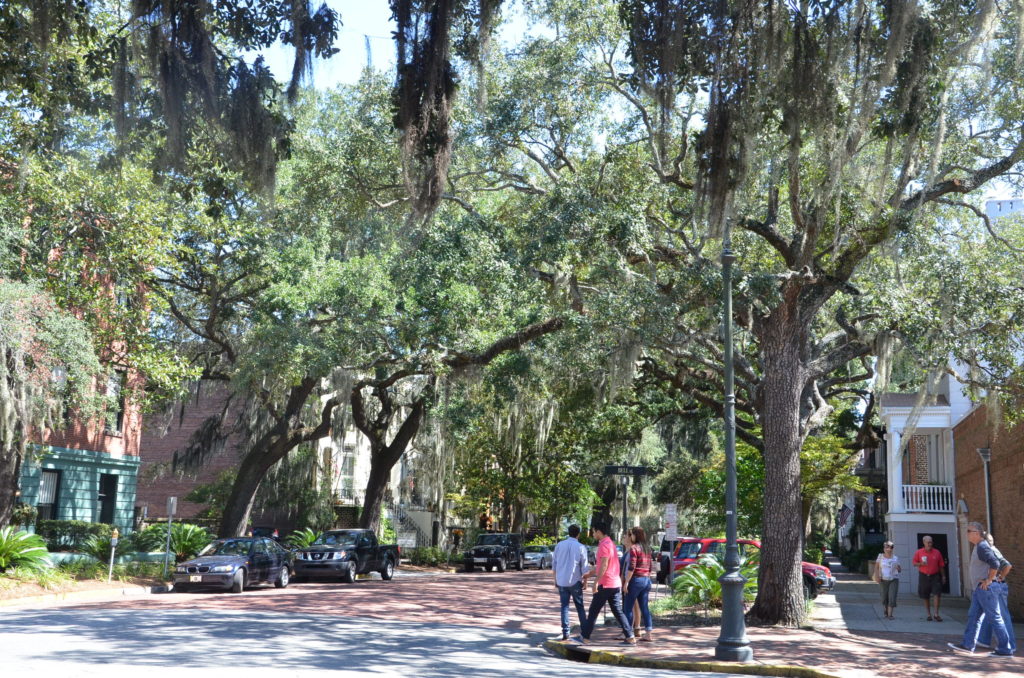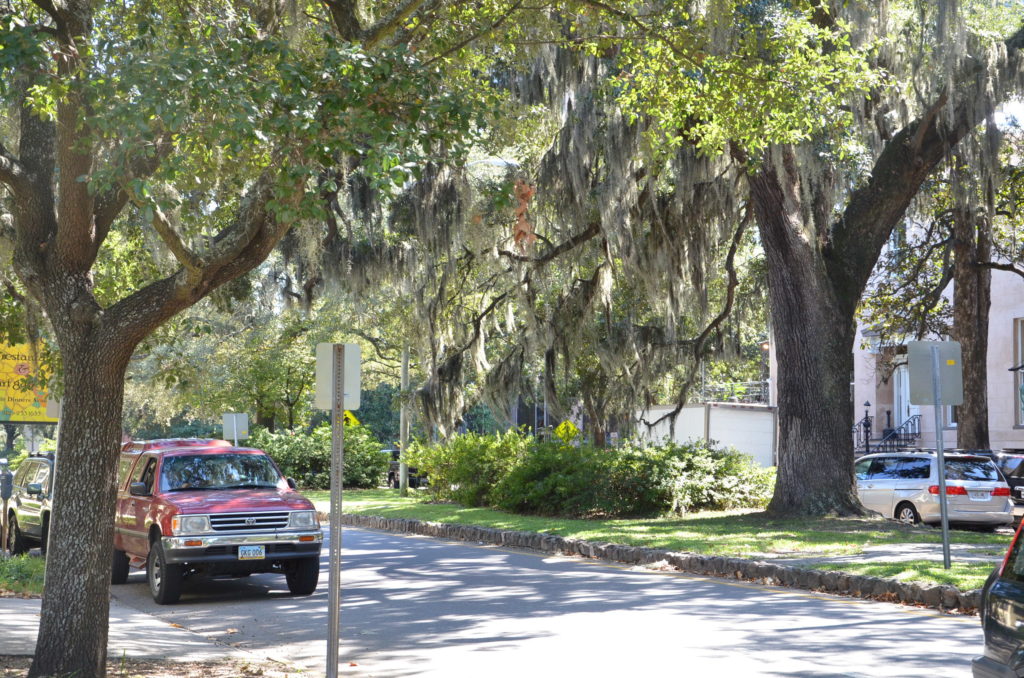 I found out when I got there that the Historic District was filled with squares. Every few streets, there is a massive square that stretches several blocks. They all featured large, old trees and massive historic monuments.
I took this in Madison Square (named for the president), which has this beautiful monument to William Jasper, a man from Savannah who was a sergeant in the Revolutionary War: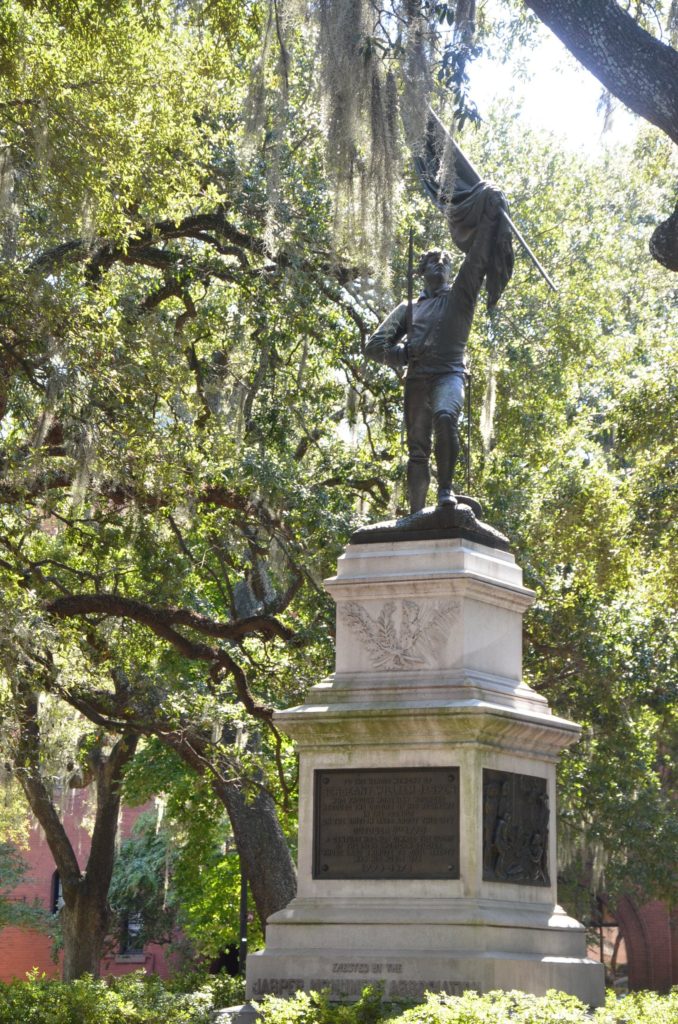 The architecture of the homes in the Historic District was very regal and detailed, and reminded me a lot of New Orleans: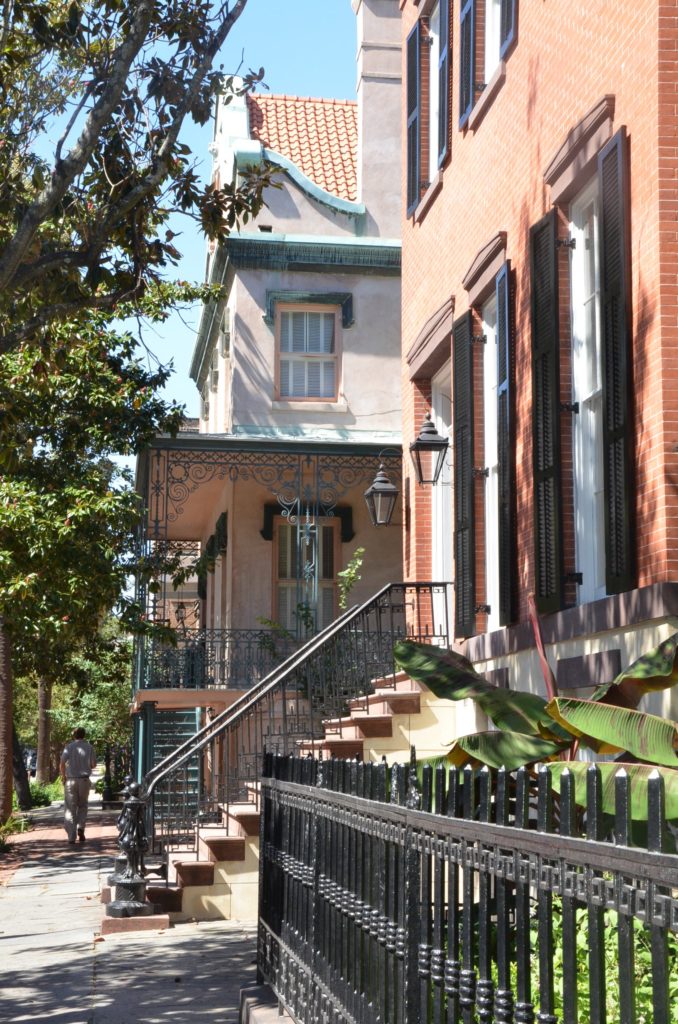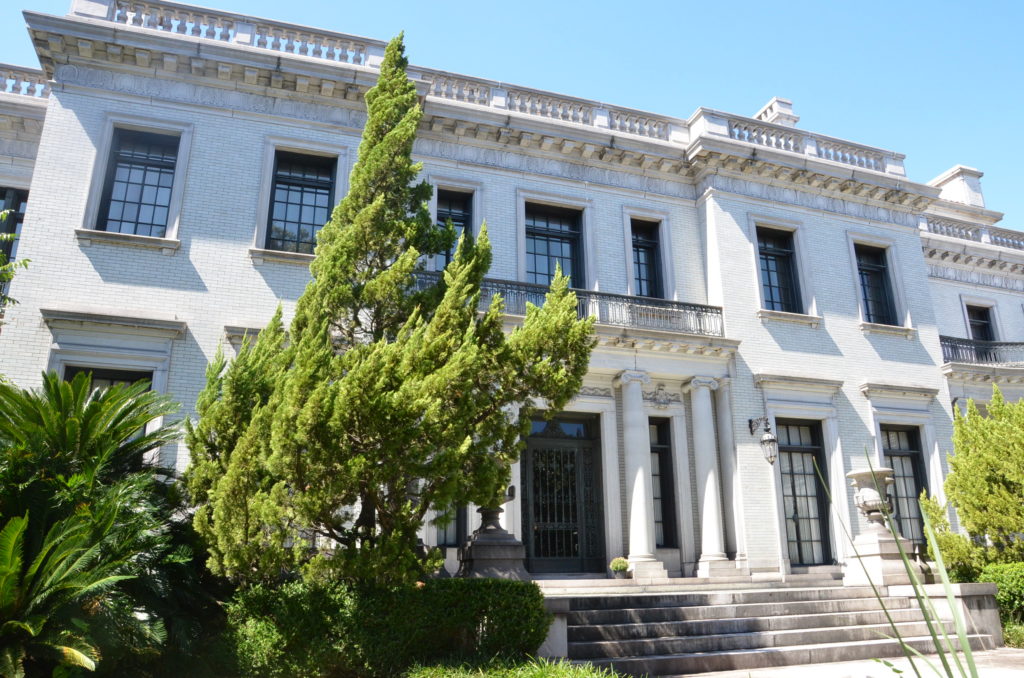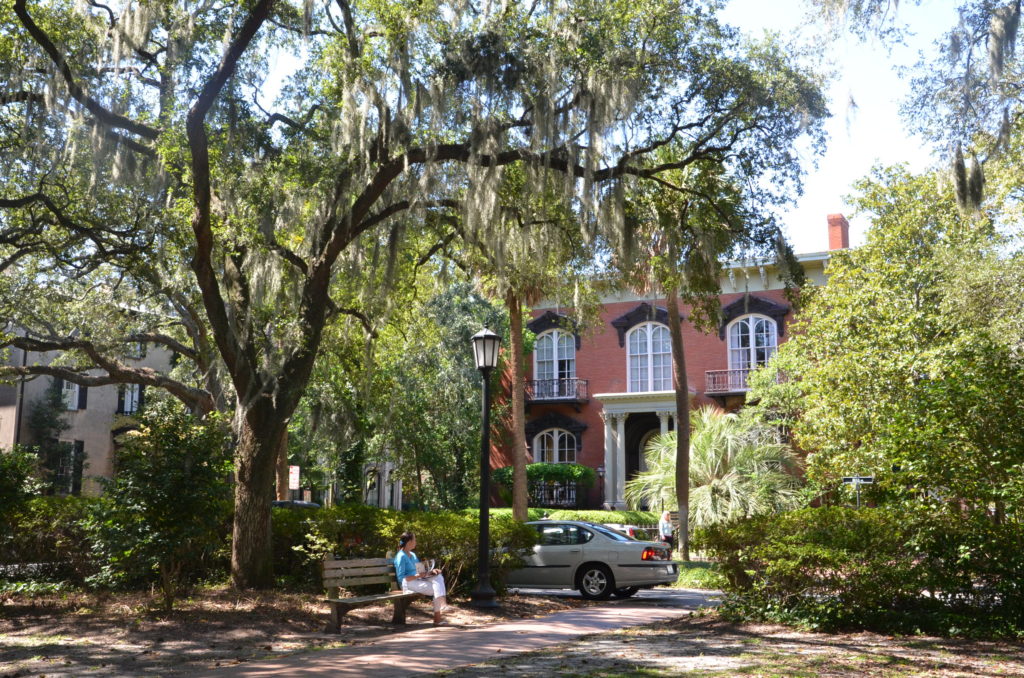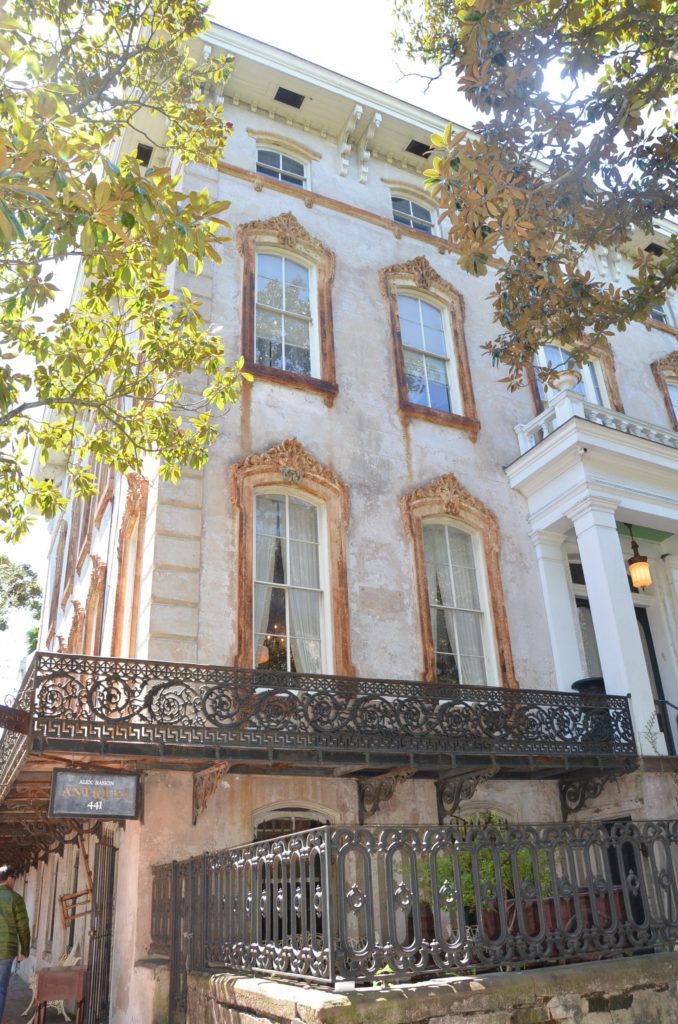 The couple we were there to see get married recommended checking out Forsyth Park, which has a famous fountain in the middle of it. If you keep going, you pass by acres of grassy lawns and more historical monuments. With its long walkways, shady trees, and massive fountain, the park looked like something from a love story. In fact, I took a photo for a couple who said they got engaged right there exactly five years ago! I couldn't pass up getting a photo of me and my husband in front of the fountain: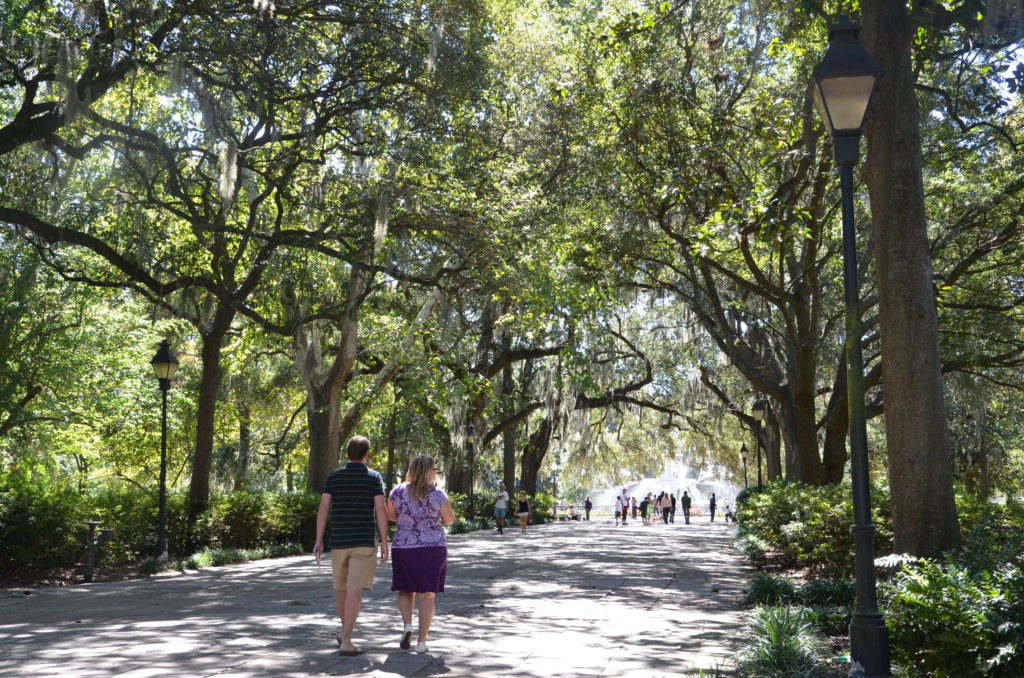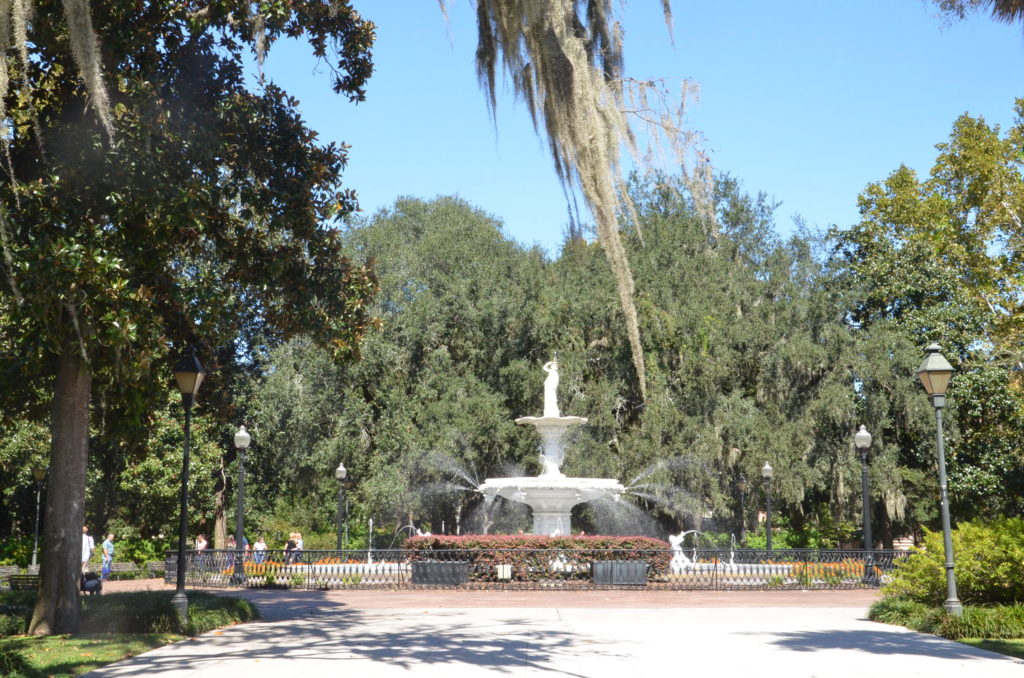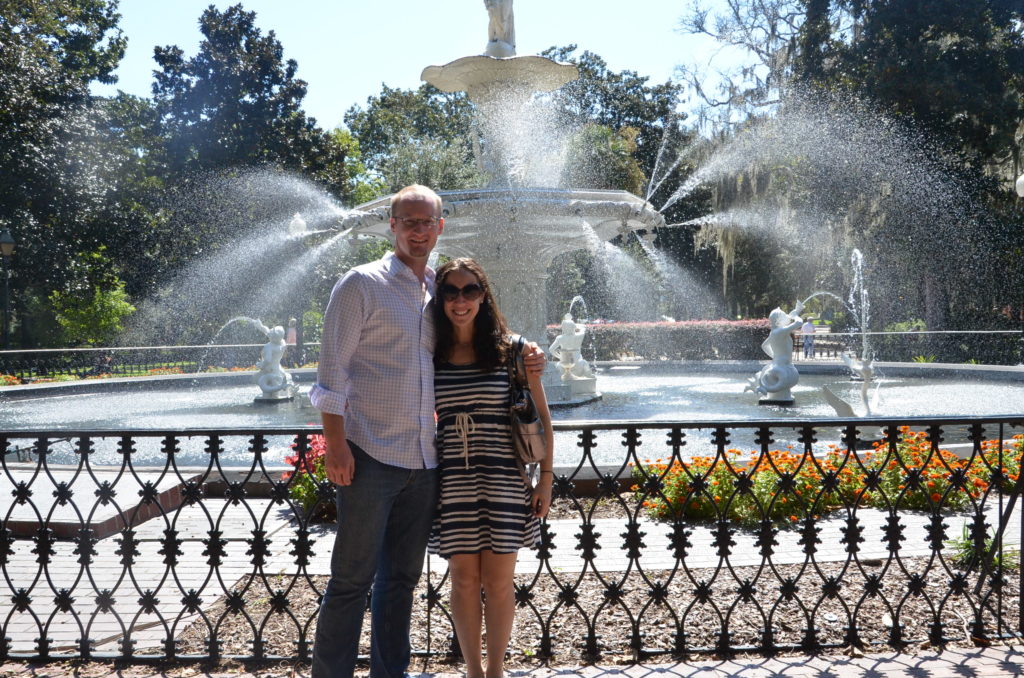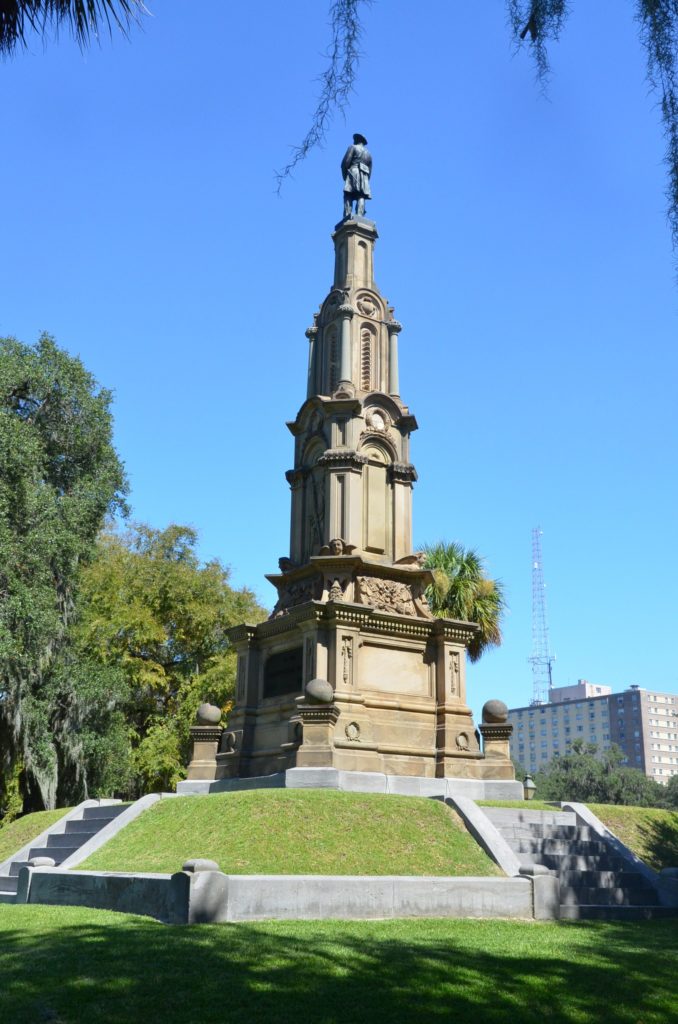 I also saw some fun street art in the city: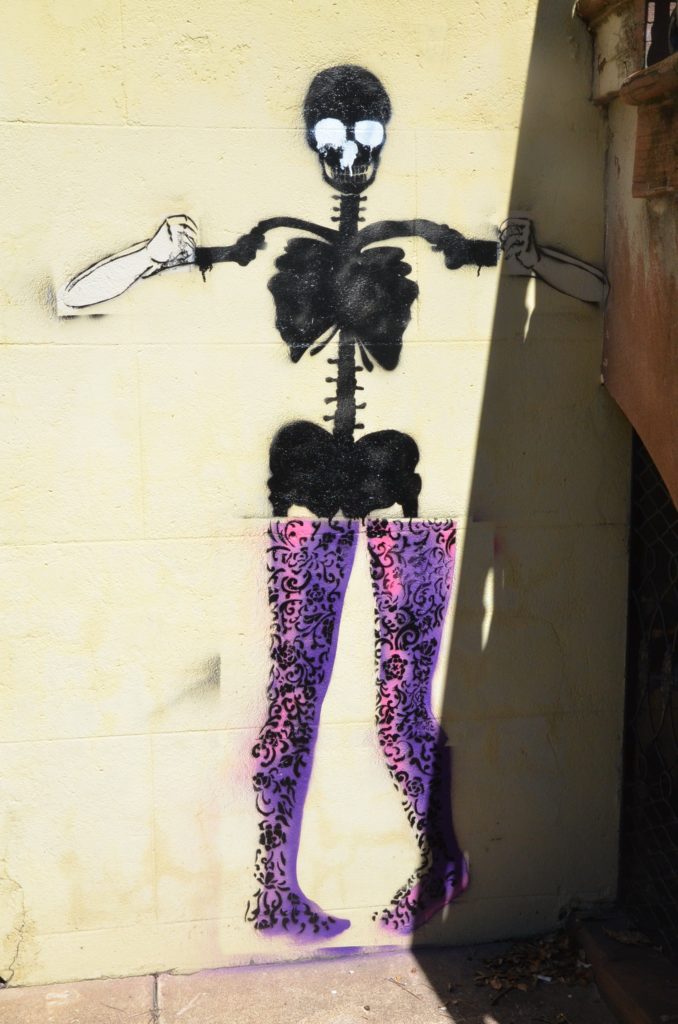 And let's not forget the Southern food. We were in Savannah so briefly that we hardly had any meals there, but we had a fabulous dinner at The Olde Pink House. It's where the wedding reception was held, though several people on Twitter actually recommended it to me as a place to eat before they found out I was already going there for the wedding! It's a gorgeous old mansion with a very elegant, stately feel, and massive amounts of history took place in it. The appetizers were mini crab cakes, beef tenderloin crostini, fried green tomatoes, and I think the last one was friend macaroni and cheese with jalepeno poppers. For my entree, I had a fabulously moist pork tenderloin with sweet potatoes and collard greens. My husband had one of the most famous Southern dishes around: shrimp and grits (pictured below). All of the staff there were so friendly and funny (we were at a table full of people from the Northeast, and they just couldn't get over how hospitable people were in the South). They also served dessert to the guests instead of a wedding cake, and my chocolate torte with graham cracker crust was just sinful. We left blissfully stuffed.