Bahrain lies on the coast of the Persian Gulf, the smallest independent state and the most liberal in terms of Western acceptance. While the culture is quite different from its Islamic neighbours, it is still a major part of the attraction for travellers seeking a holiday that's a little different. Here's our guide to the top cities of Bahrain, and what you can expect to find there.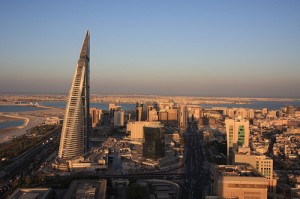 Manama
Manama is the city's capital, and a hub of tourism and commerce for the country – it's also where you'll find the greatest concentration of bars and hotels in Bahrain, including the excellent Kempinski Grand Hotel. Here you'll find the most attractions in the country, such as the famous Bahrain Fort, which dates back to the 14th century and is built on ground which has records of settlements as far back as 3,000BC. It's now a UNESCO World Heritage Site, and is definitely worth checking out while in the city. Architecture lovers should also head to the Al-Fetah Mosque, which opened to the public in 2006 and seats over 7,000 patrons, making it the largest place of worship in Bahrain, also boasting the world's largest fibreglass dome.
If you'd rather explore the outdoors, Manama's beach boasts a wealth of sandy shores and excellent conditions for water sports, including diving and surfing. You could also head out to the Tree of Life, a large tree in the middle of the desert that has baffled scientists for years thanks to its ability to grow without any apparent water source. A large, sprawling Prosopis tree, it's a huge attraction in its own right, but also provides a great opportunity to head out into the Bahrain wilderness.
Riffa
Riffa, Bahrain's second-largest city, is home to Riffa Fort, which was built in the 17th century and offers beautiful views over the Hunanaiya Valley. Riffa is an excellent destination for shopping, where you'll find top quality goods on the two main streets, Riffa Bazaar and Bukuwara Street Market, as well as a number of shopping malls. The residential area of West Riffa also holds attractions though; the city's famous clock tower is located here, as is the Bahrain National Stadium.
Muharraq
Muharraq is slightly more conservative than Manama – for example, you won't find any bars, although there's a fantastic selection of cafes offering Turkish and Arabic coffees, herbal teas and fresh juices. You'll find more of the non-tourist side to Bahrain here though, so if you're looking to discover more of the country's day-to-day culture, this is the place to be. There are plenty of traditional markets, in particular the spice souks, where you'll find all manner of sights, smells and flavours and a bustling Bahraini atmosphere.
Need to know:
·         Bahrain might be a Western-friendly destination, but you must still exercise common sense and courtesy with regards to the country's cultural and religious practises.
·         It is okay in Bahrain to wear bikinis or swimshorts on the beach; however, in towns it's advised that you wear long trousers or shorts, and avoid see-through clothing.
·         It is considered unacceptable to show affection to partners in public. This can result in unpleasant confrontations, so it is best to bear this in mind while planning your holiday.