My first wedding anniversary was on March 26, so my husband and I decided to spend the weekend together in Fredericksburg, Texas to celebrate. It's a historic town originally settled by German immigrants, and it's just over 70 miles from both Austin and San Antonio.
I've lived in Texas my whole life, but had never been to Fredericksburg. I always had the impression it was a boring small town where grannies went to buy antiques. But I started to hear great things from friends who went there on day trips or for a weekend, and it's been receiving acclaim for the flourishing Fredericksburg Wine Road 290 (a trail of 10 local wineries).
Fredericksburg for 20somethings
My friend Jeff Jung from Career Break Secrets grew up here, and he connected me with Mary Ann McClain, the Communications Manager at the Convention and Visitors Bureau. I told her about my apprehensions, and she assured me that Fredericksburg has plenty to offer 20somethings. "I think your earlier perception of Fredericksburg is what it once was," she told me via email. "Today, people love to come because Fredericksburg has evolved into one of Texas' top destinations through its location (gorgeous scenery), great shopping, romantic B&Bs/guesthouses/inns (over 370), through the quality of the 70+ restaurants here, from an explosion of wineries, and due to our emerging art scene.  There's just a creative vibe here, drawing artists and enabling more galleries to display here. It's also very relaxing and fun."
She said there are also hundreds of festivals and events in Fredericksburg each year, plus outdoor activities and entertainment geared toward my age group. "Active 20somethings might enjoy hiking or rappelling Enchanted Rock, or perhaps cycling of scenic roadways. During the spring, these roadways and surrounding fields are sprinkled with color from wildflowers that grow rampantly here," she says.  Additionally, "Luckenbach Texas is an eclectic place; it's very laid back and there's usually live music playing, and a chicken or two or four wandering around.  Speaking of live music, several places in town are great for that, including Ausländer Restaurant & Biergarten, Hondos on Main, Crossroads Steakhouse & Saloon, and Silver Creek Beer Garden & Grill."
Now for our itinerary, which I highly recommend if you only have two nights and don't want to be scrambling the whole time. We had a lovely time and definitely plan to go back!
Accommodations
We arrived in Fredericksburg at 3 p.m. on a Friday, which turned out to be perfect. We went straight to Absolute Charm, a company that handles reservations for hundreds of local lodgings (rather than having hotel chains, Fredericksburg has hundreds of independent B&Bs and inns–they have so much character!). We picked up the keys to our place–The Carriage House at Along Shady Creek. I chose it because it's a few blocks from Main Street, but on a quiet residential street. It was also quite affordable (less than $200/night) and has great amenities.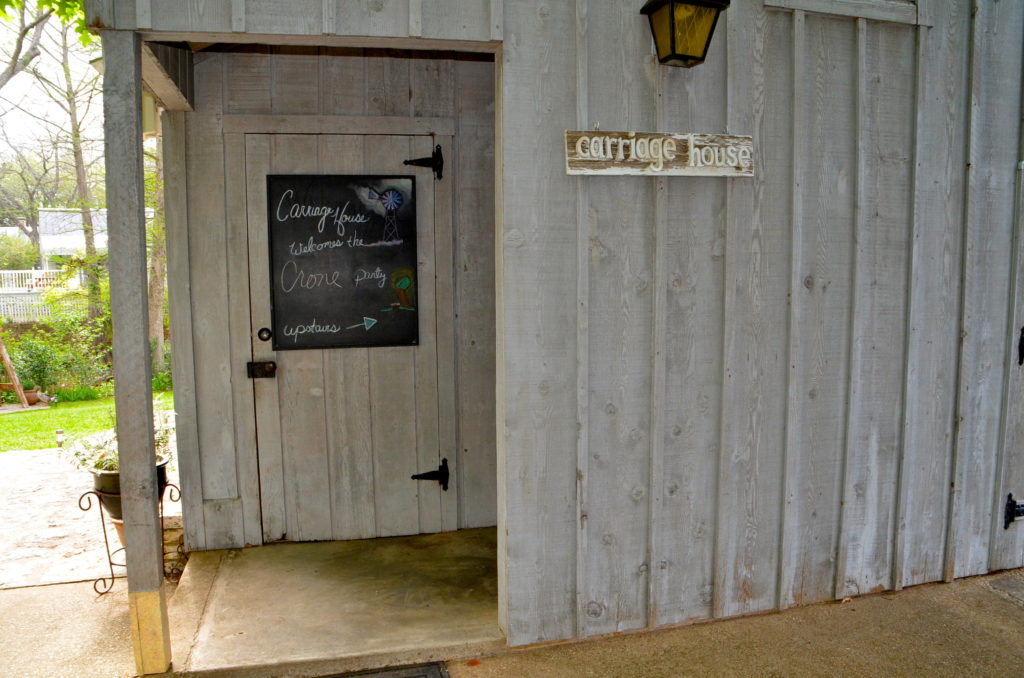 We had the entire second floor of the carriage house, which is next to a residential home. The space is more like a vacation rental than a B&B, as it has a kitchenette, and they gave us a gift card for breakfast at a selection of local restaurants instead of serving any. It is cozy and very private. It has a Jacuzzi bath tub large enough for four people! I also loved that there was a spacious living room with a flat-screen TV, DVD player, and electric fireplace.
It backs up to a creek and is home to a colony of vocal ducks. We had a private patio overlooking the creek, and I loved sitting out there reading in the mornings while I waited for my husband to wake up. There was also some outdoor seating outside by the creek. They had recently added an outdoor hot tub, though we didn't end up using it.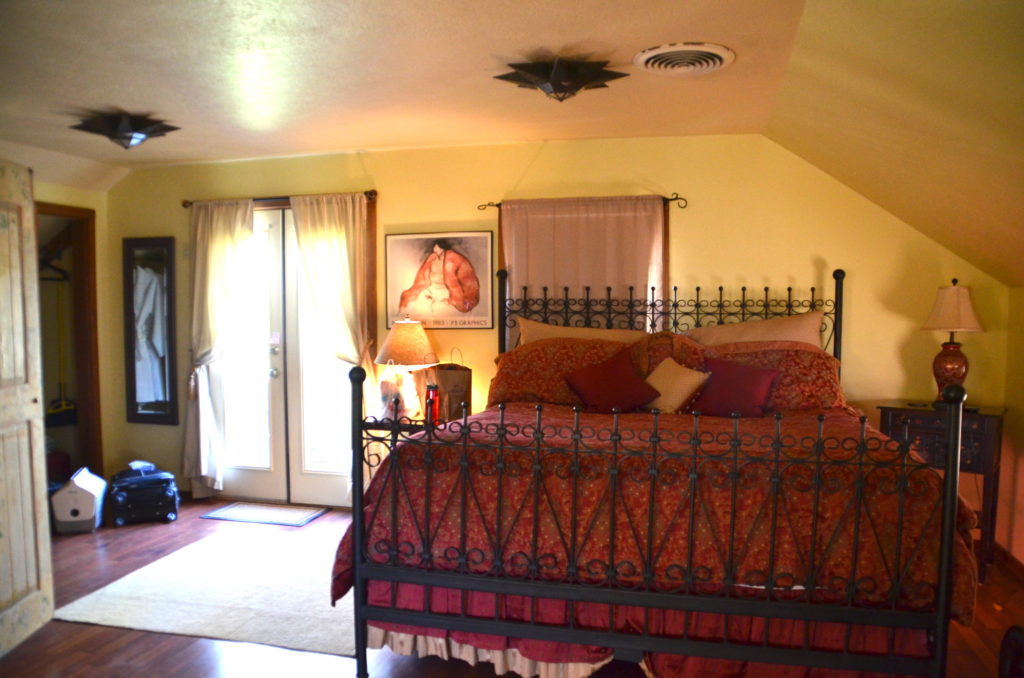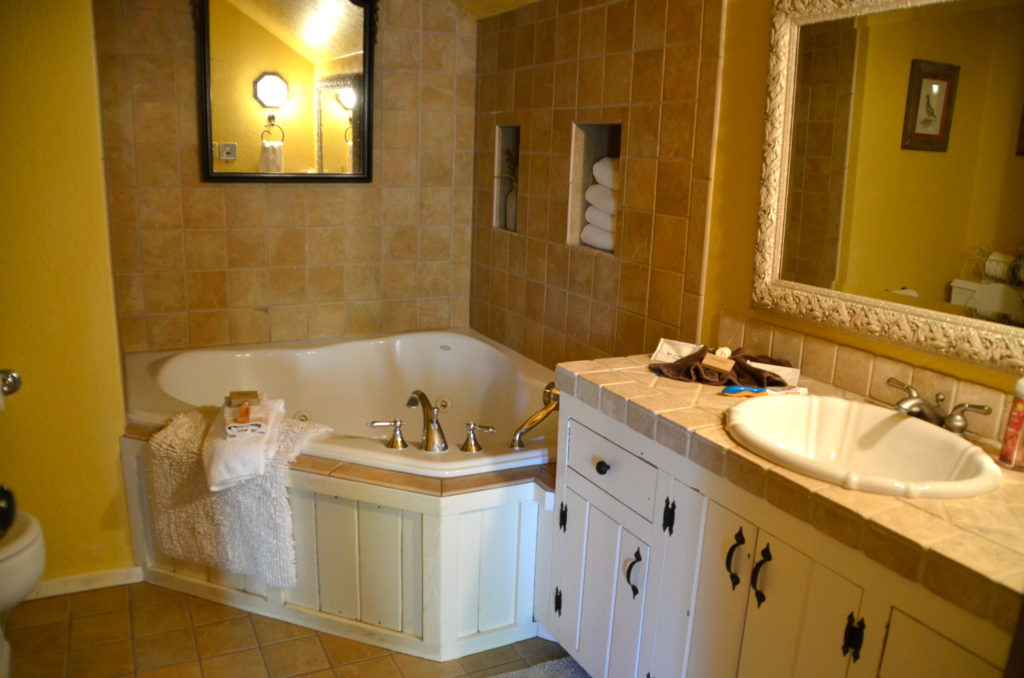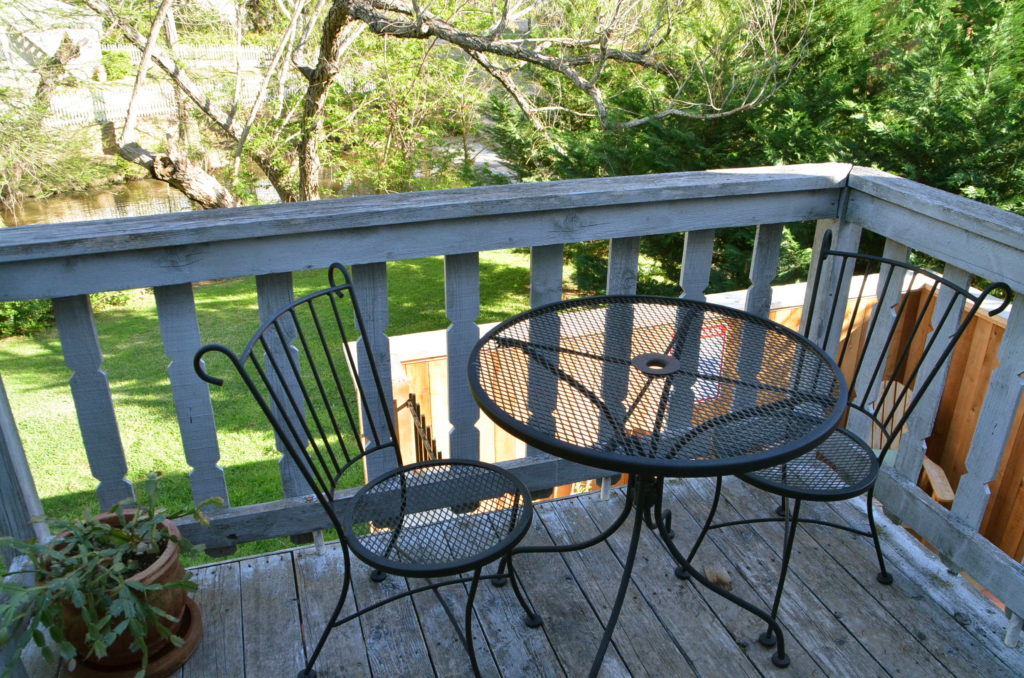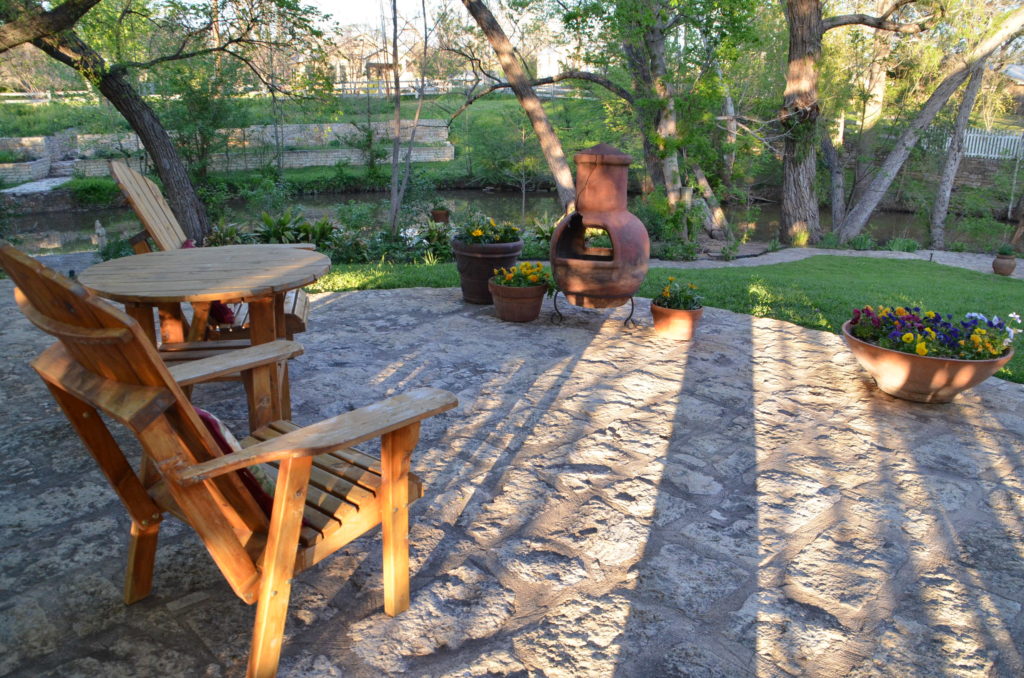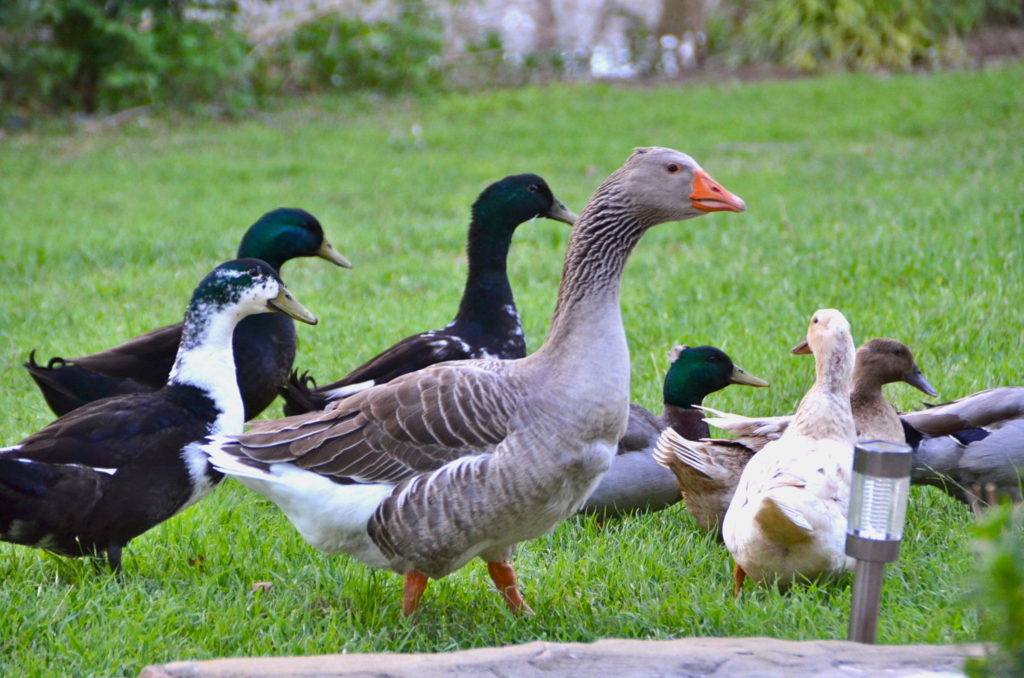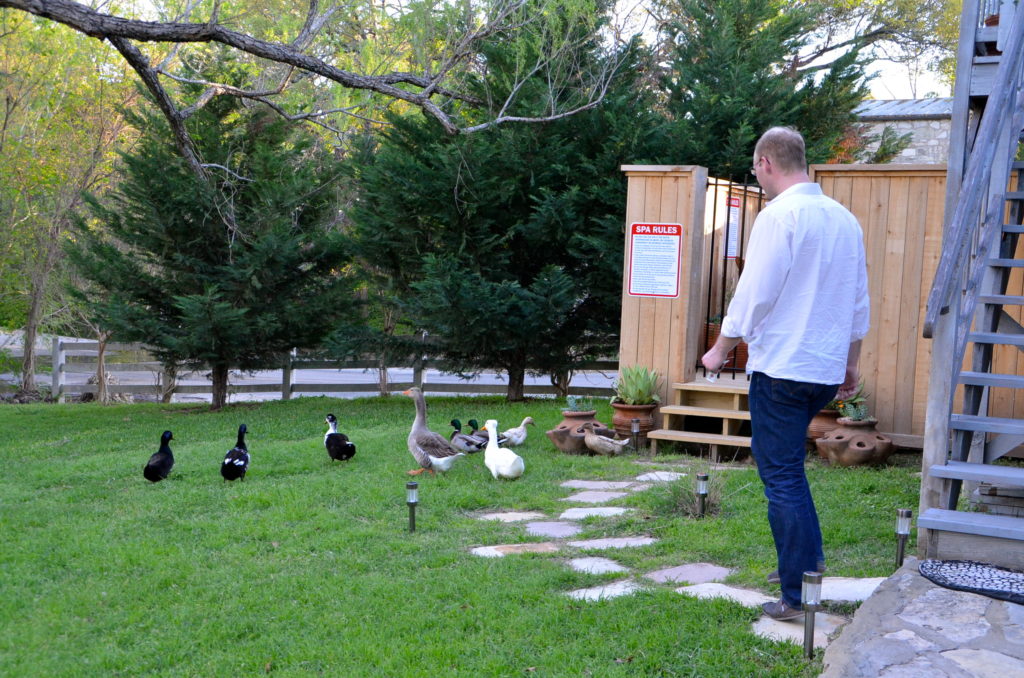 Friday
Visitor Information Center
After checking in and putting our bags down, we went to the Visitor Information Center. They have really friendly staffers and endless stacks of maps and brochures about local attractions, events, and day trips. I highly recommend stopping by if you want to learn more about the town or get insider tips on what to do and where to eat. It's in the center of town, just a block behind Main Street.
Pacific War Museum
Our first stop was the main building of the Pacific War Museum since it's right down the street from the Visitor's Center. You can see my husband standing in front of it below, where there is a full-sized ship protruding from the ground. The museum tells the full history of what led up to World War II with artifacts, written displays, timelines, and videos.
The place was a maze just teeming with information, and while I did start to get bored after about an hour, my history-obsessed husband was enthralled. Though I was captured by the Pearl Harbor exhibit, which puts you in a dark room with an submarine and eerie submarine sounds, and it plays a series of videos and audio that tell the gripping story of that day. The museum had several full-sized planes, tanks, and guns. Down the road is a reconstructed combat zone, which offers tours every hour. There's another museum in the complex that is dedicated to the history of Admiral Chester W. Nimitz, who was from Fredericksburg. Your museum ticket gives you access to all of these.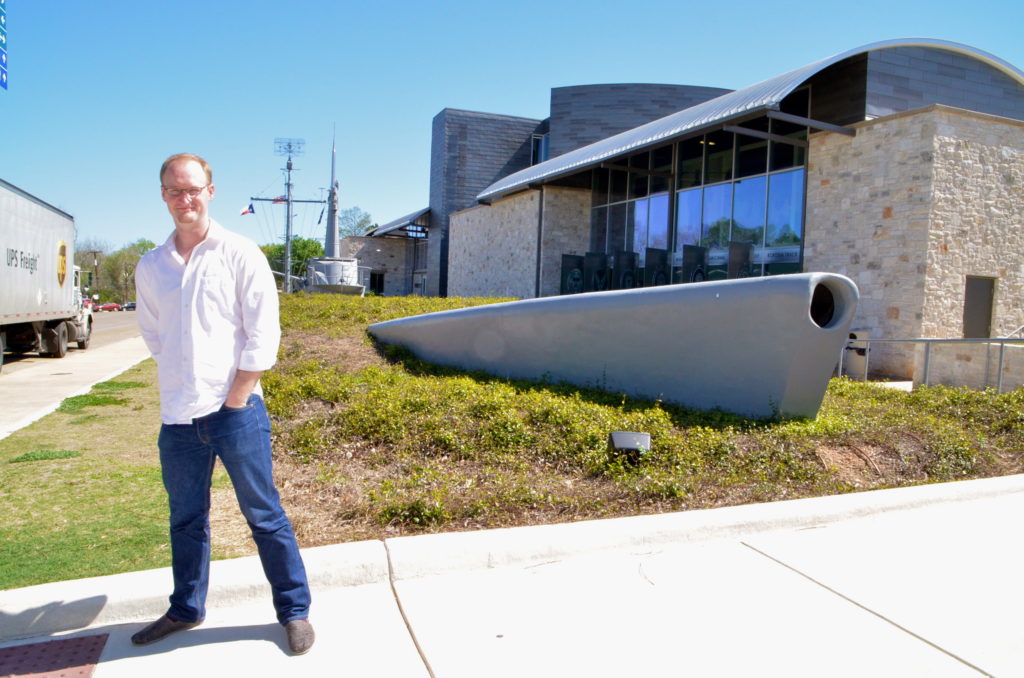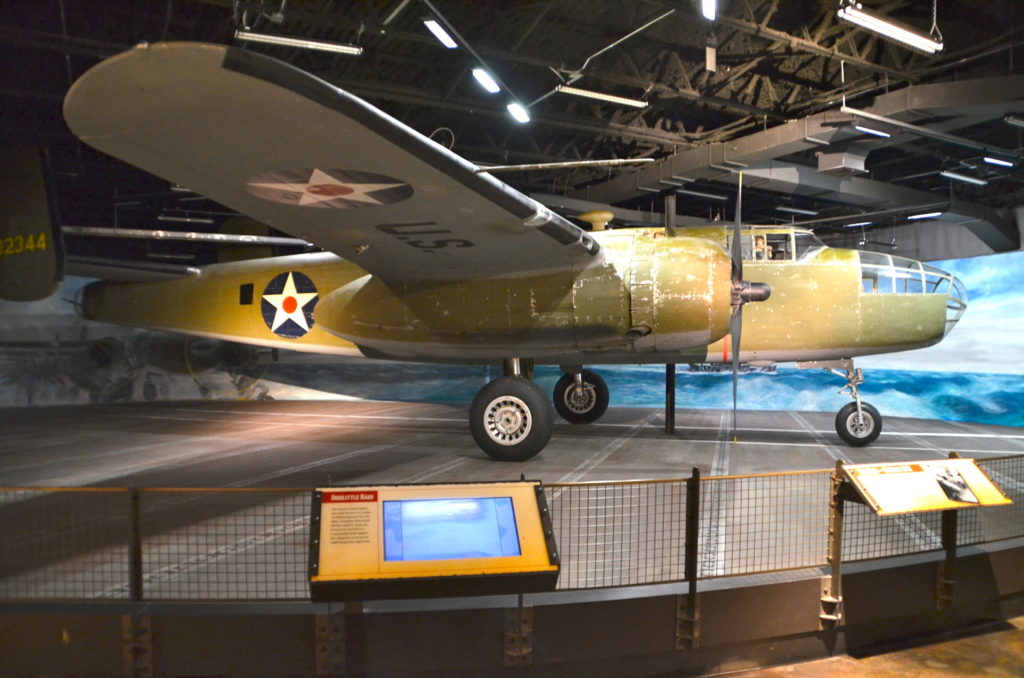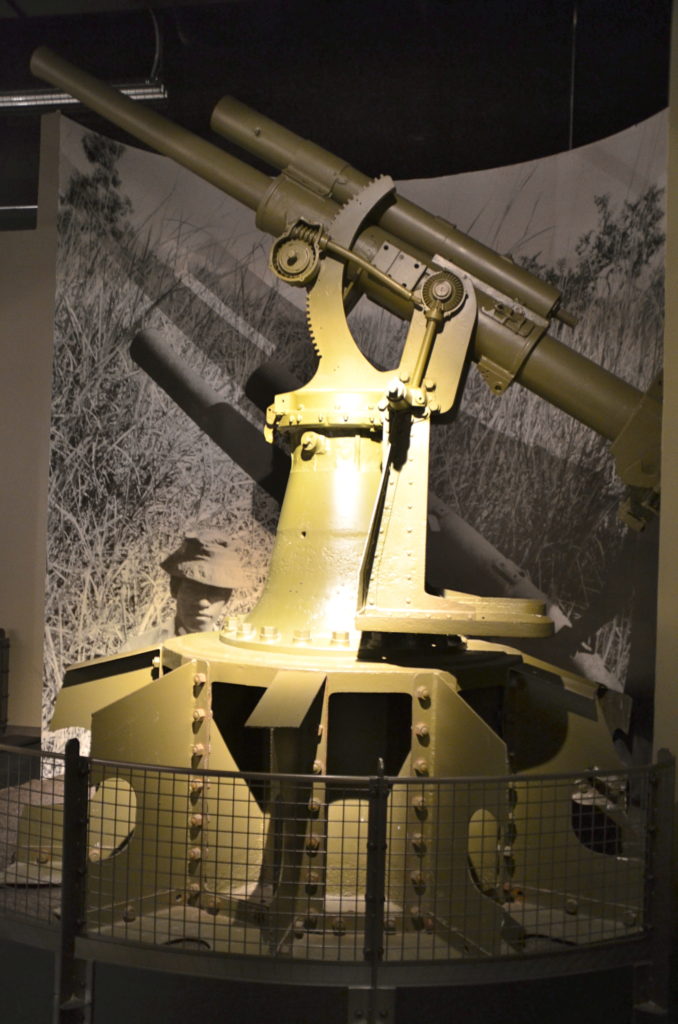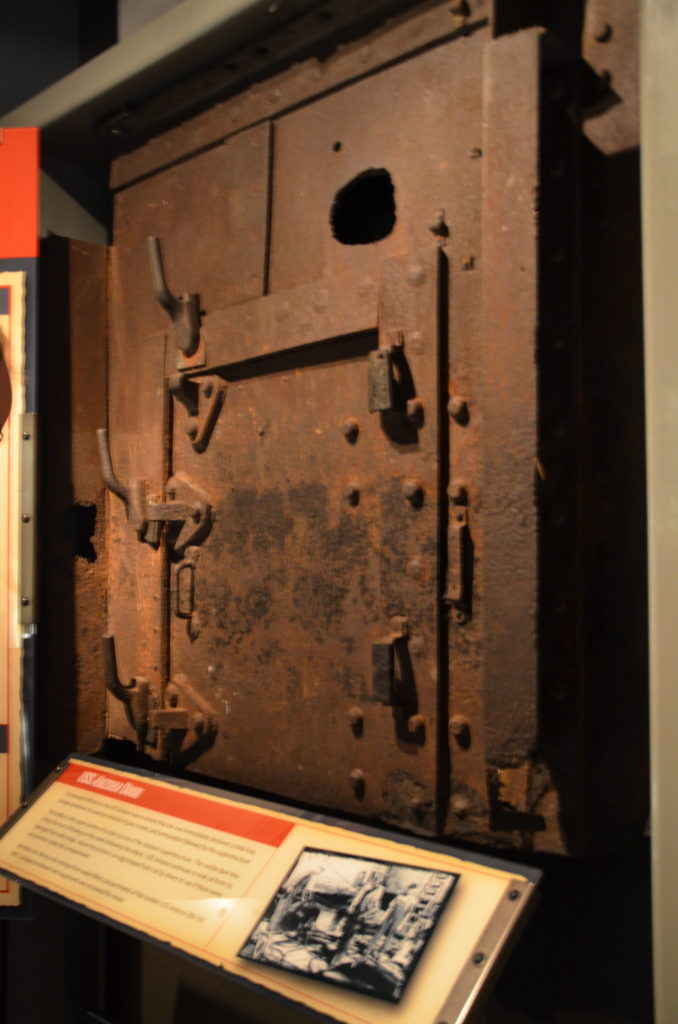 Explore Main Street
Main Street is where most of the action happens in Fredericksburg. It has many restaurants (some serve German food) and shops. There's also a pioneer museum and several venues that offer live music at night.
The town has over 150 shops, many of which are on this strip. I had the misconception before coming here that they would all be dusty antique shops or Western wear stores. While there were certainly some of those, I was happily surprised to find many chic clothing boutiques, fun candy stores, a modern pet accessory store (I wanted everything in there, including one of the employees' puppy teacup chihuahua, who chills out there), cute wine tasting shops, and book stores.
We couldn't get enough of Rustlin' Robs, a shop with aisles and aisles of canned nut butters, salsas, peppers, jams, sauces, dressings, and other yummies. They had bowls of crackers and an open jar of just about everything in there, so you could stuff your face for free while exploring all of these amazing local offerings. I bought a jar of apple butter; it was my first time to try the stuff, and I'm in love.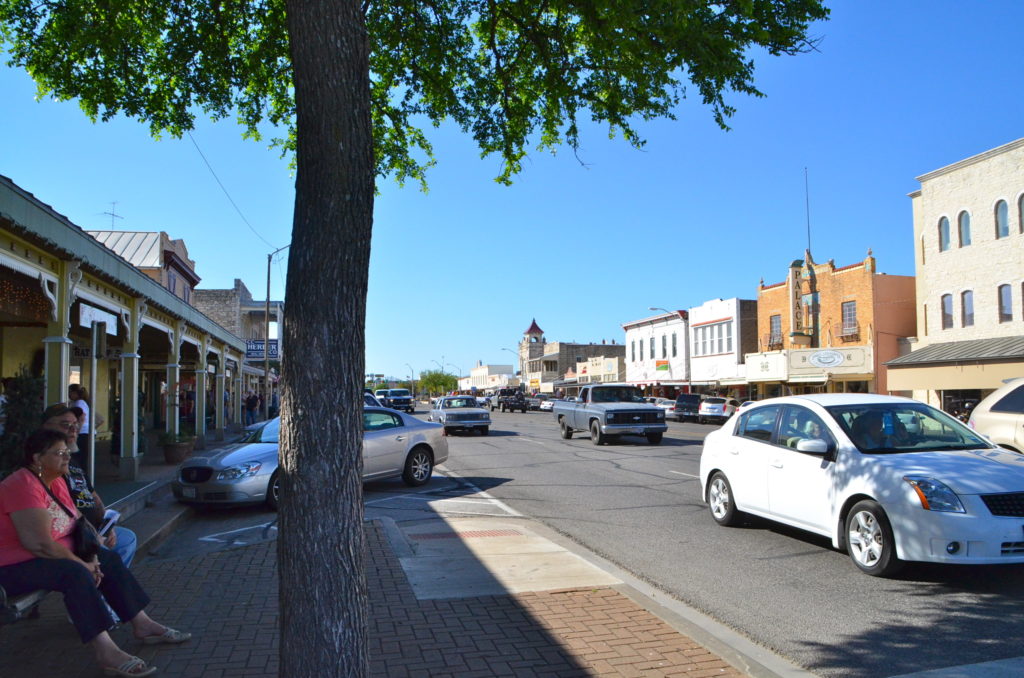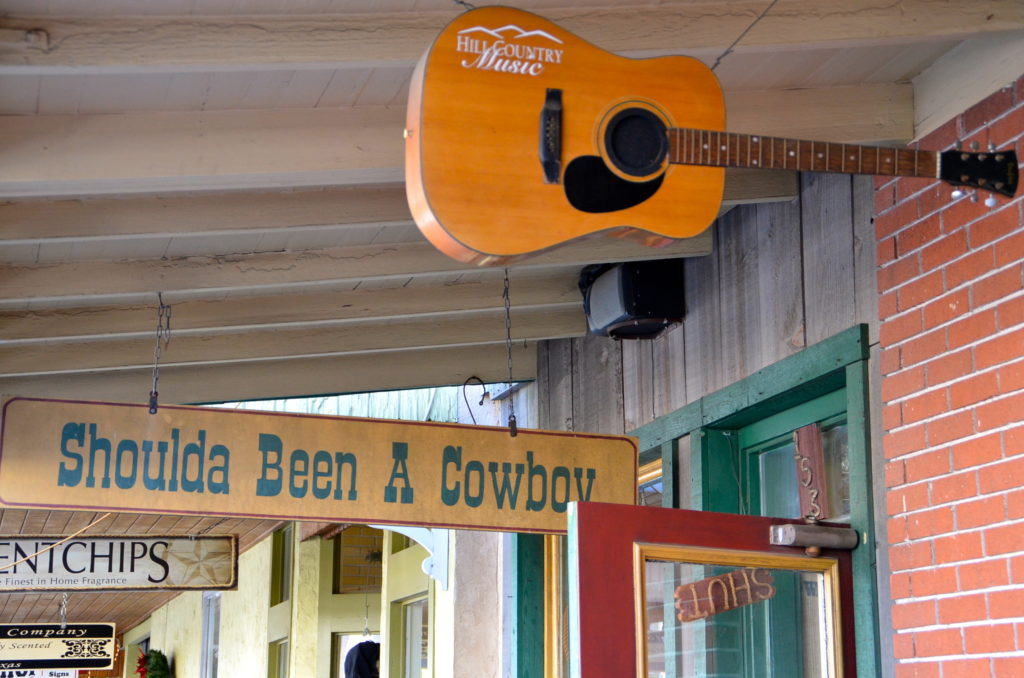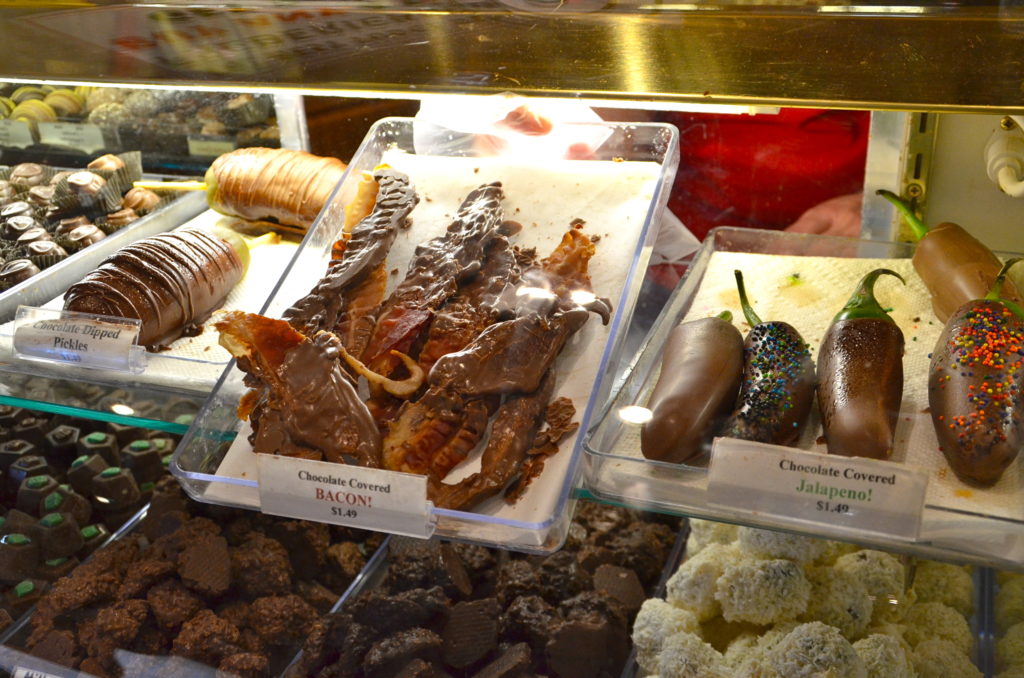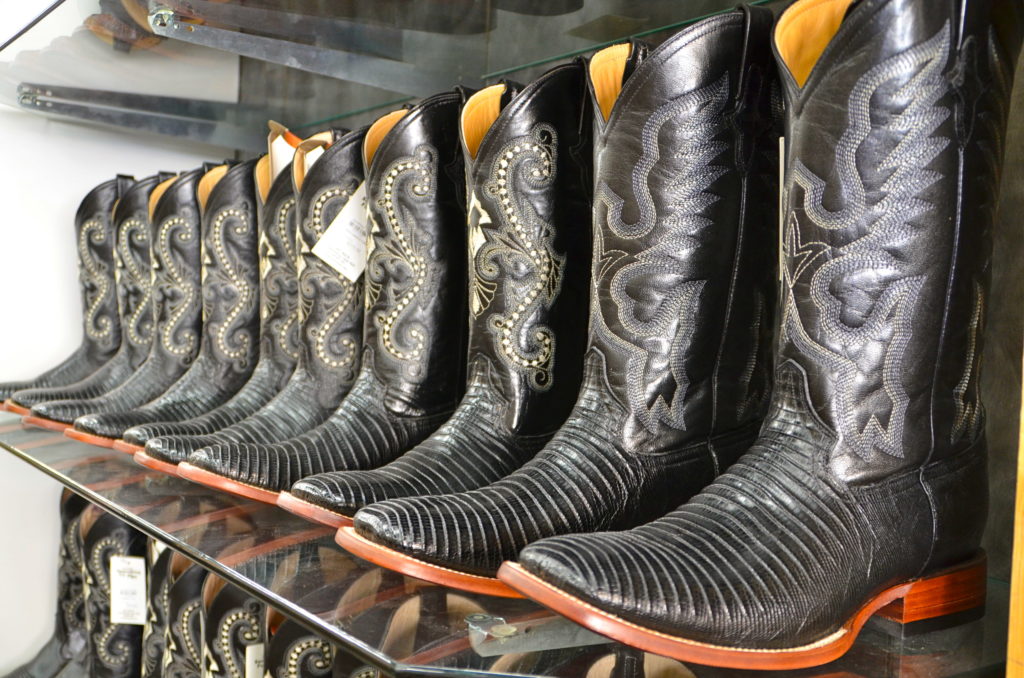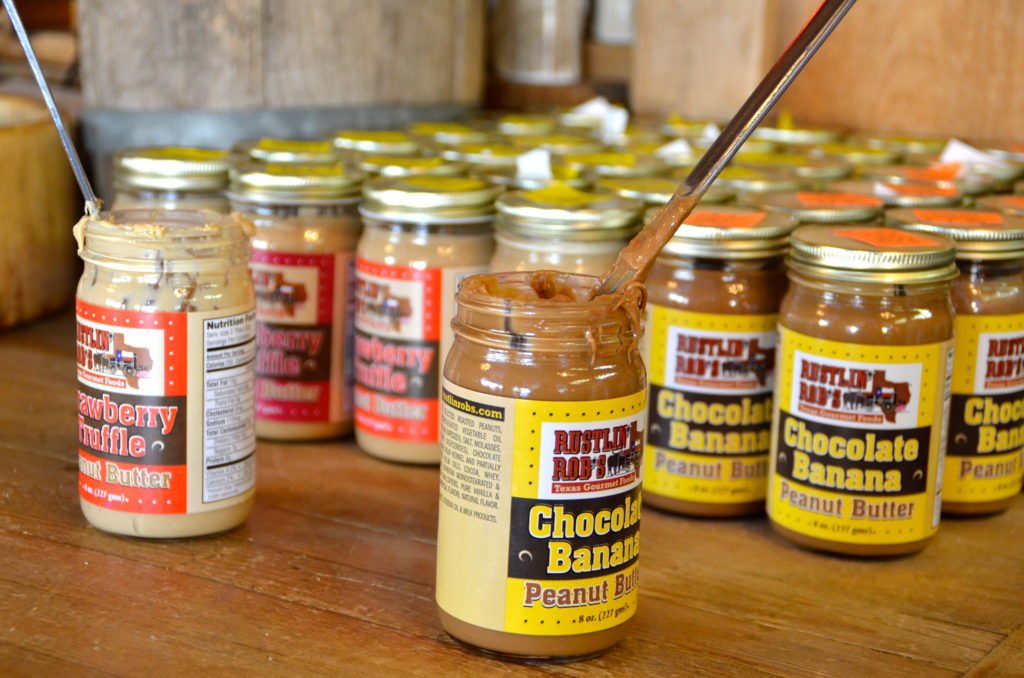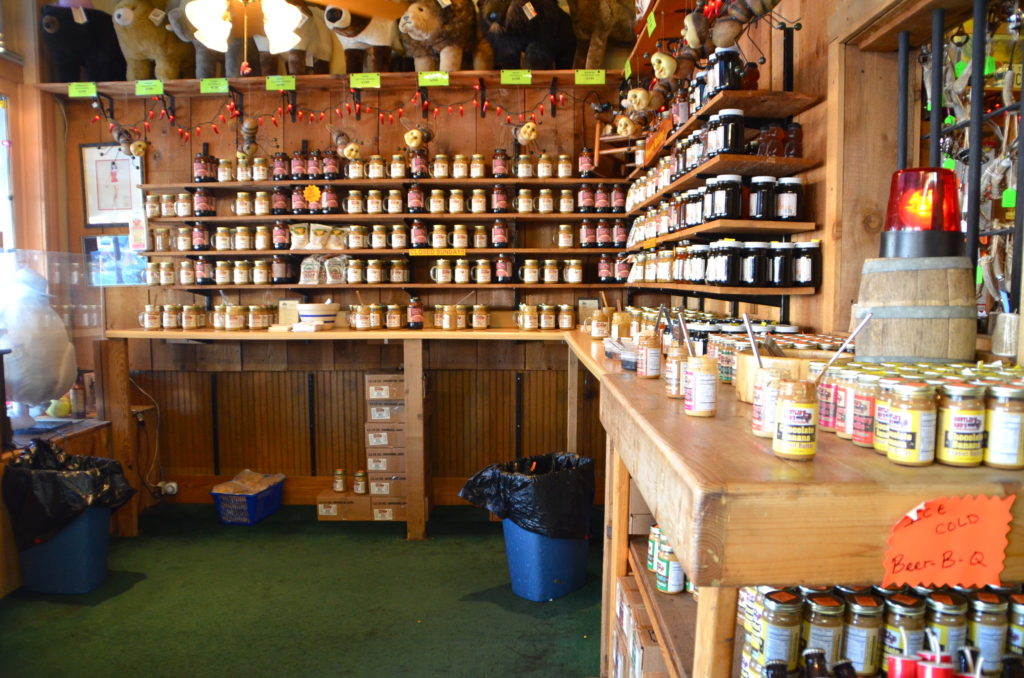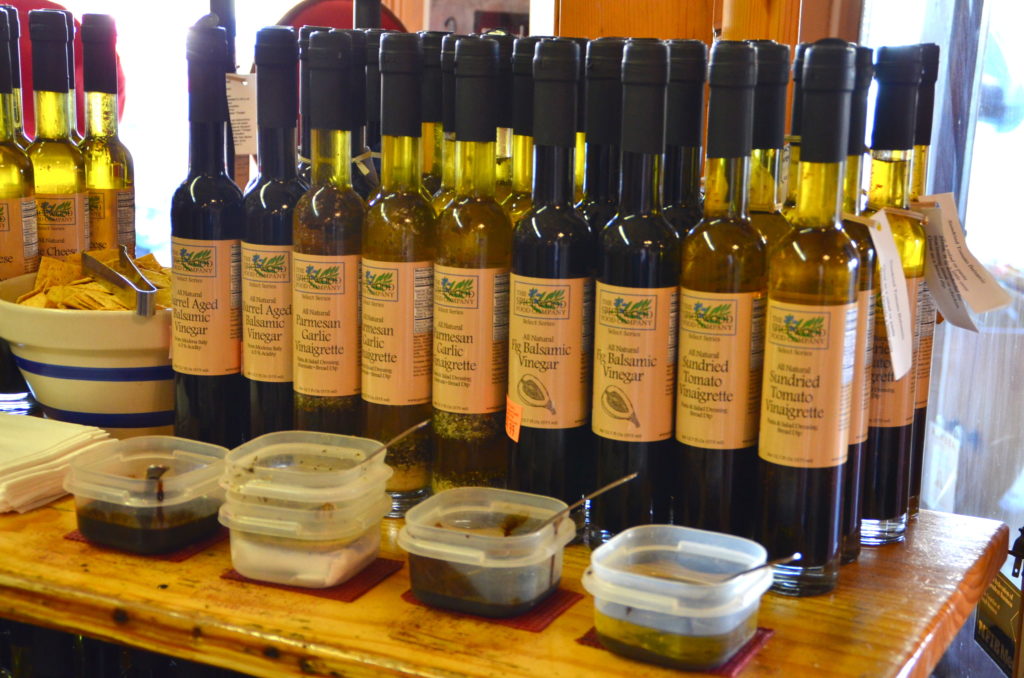 Dinner at The Cabernet Grill
This restaurant came highly recommended to me by a seasoned Fredericksburg traveler, and it had excellent reviews online, so we gave it a try for dinner. The service was a wee bit slow, but it's a small town, and oh boy, the food was amazing. The menu was diverse and infused with Texas flavor. It was also very reasonably priced for the quality and creativity. The wine list is enormous, with many wines from local vineyards.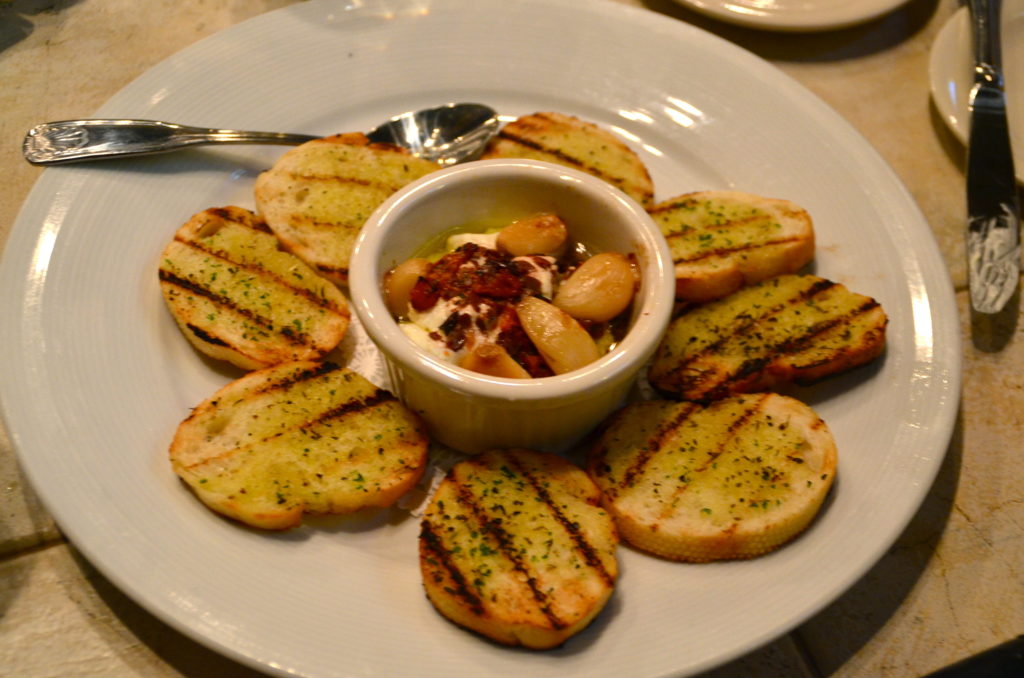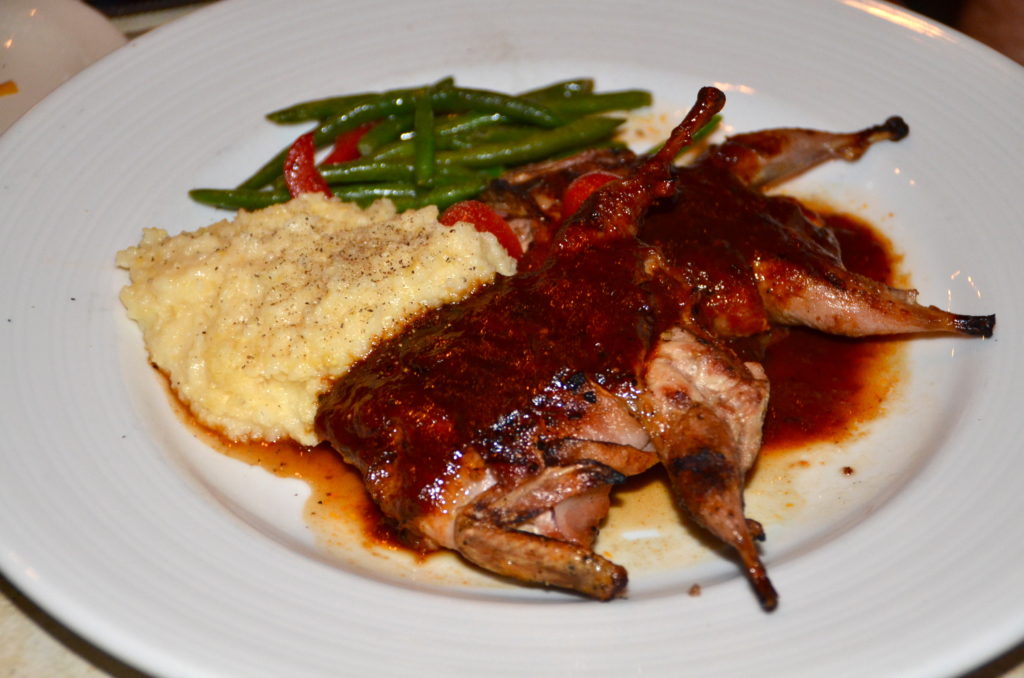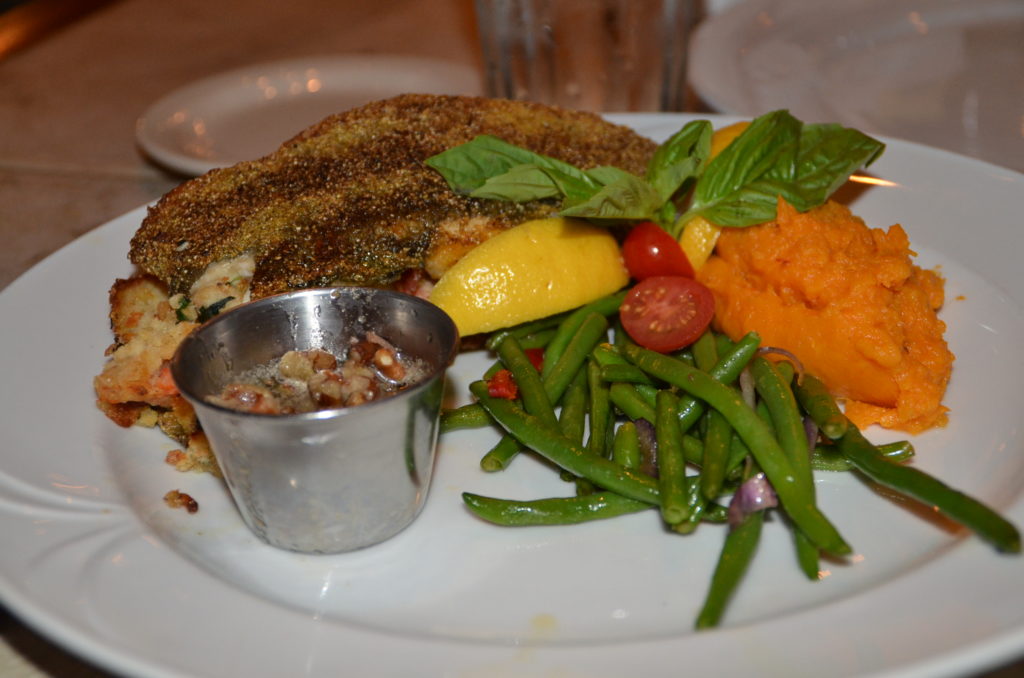 Saturday
The Sunset Grill
The next morning, we were slow to rise and stopped by The Sunset Grill for brunch at 11 since it was one of the places where our breakfast gift card could be redeemed. My husband had a regular ol' omelet, but we were about to go wine tasting and I needed some real food in my stomach, so I had a colorful crab cake salad with mango vinaigrette. So fresh and tasty! Everything else we saw come out of the kitchen looked great. The restaurant is extremely casual and very affordable. Perfect for a quick breakfast or lunch.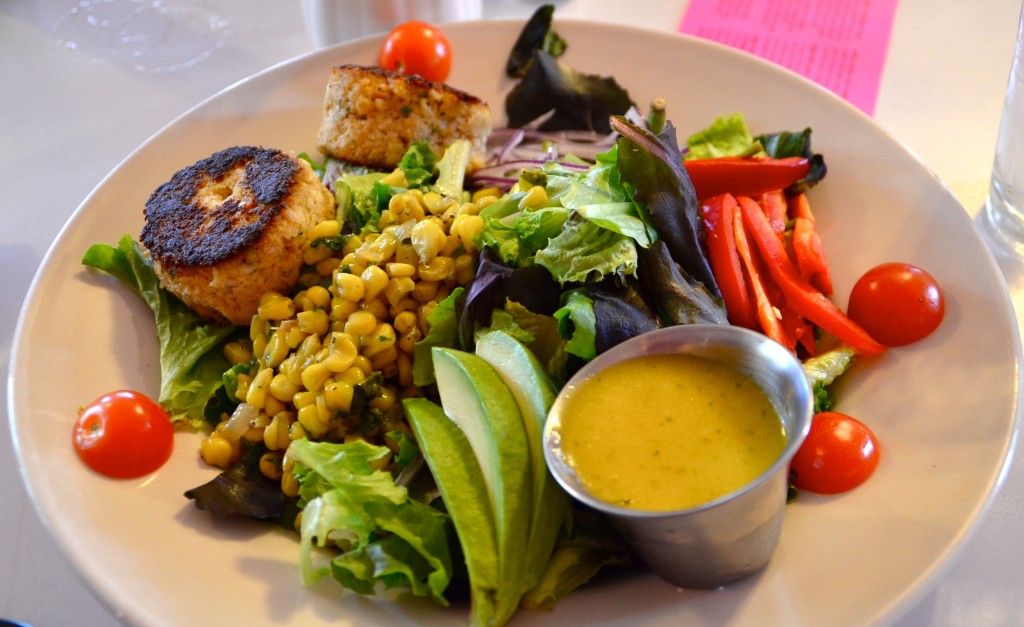 Messina Hof Winery
From Fredericksburg, hop on Highway 290, also known as the Wine Road. There are 10 wineries just a short drive away. I'm not a big drinker, and I've never liked wine, but I decided to do some tastings and see if I could find one I fancied.
Messina Hof is a new winery in the Hill Country; their home base is in Bryan, Texas, but they opened this location last year as a tasting room. It's housed in a gorgeous villa. The inside has two bars for tasting, plus an outdoor patio where you can enjoy a glass. It was recommended to me as a place to go since it's less crowded than some of the larger vineyards (ie. Becker and Grape Greek).
Here's how it works: You pay $10 and get a wine glass with their emblem on it that you get to keep, plus five wooden tokens. They give you a menu of their offerings and a chart that lets you rate the ones you try. You tell the bartender which one you want to sample, he pours it in your glass, and you drop a token in the jar. Each pour was enough for many sips, so my husband and I tried all of each others' wines so that we could sample 10 total. I was shocked to discover that I liked the rosé and the sangria–they were very sweet, tasty, and easy to drink. I was so excited and bought a bottle of each. They were very reasonably priced (both less than $15).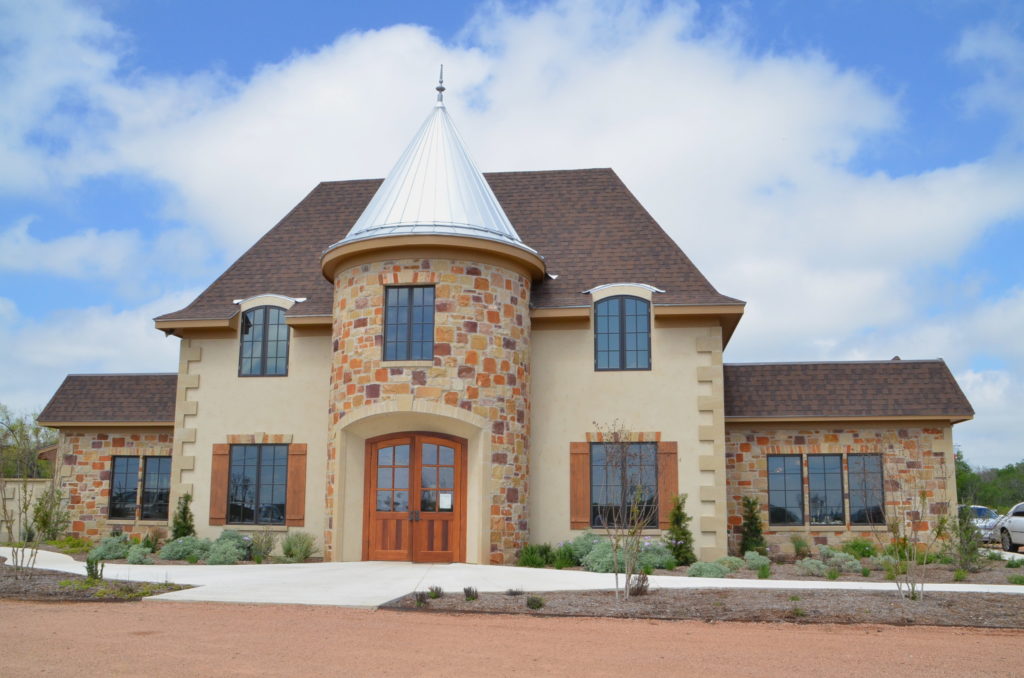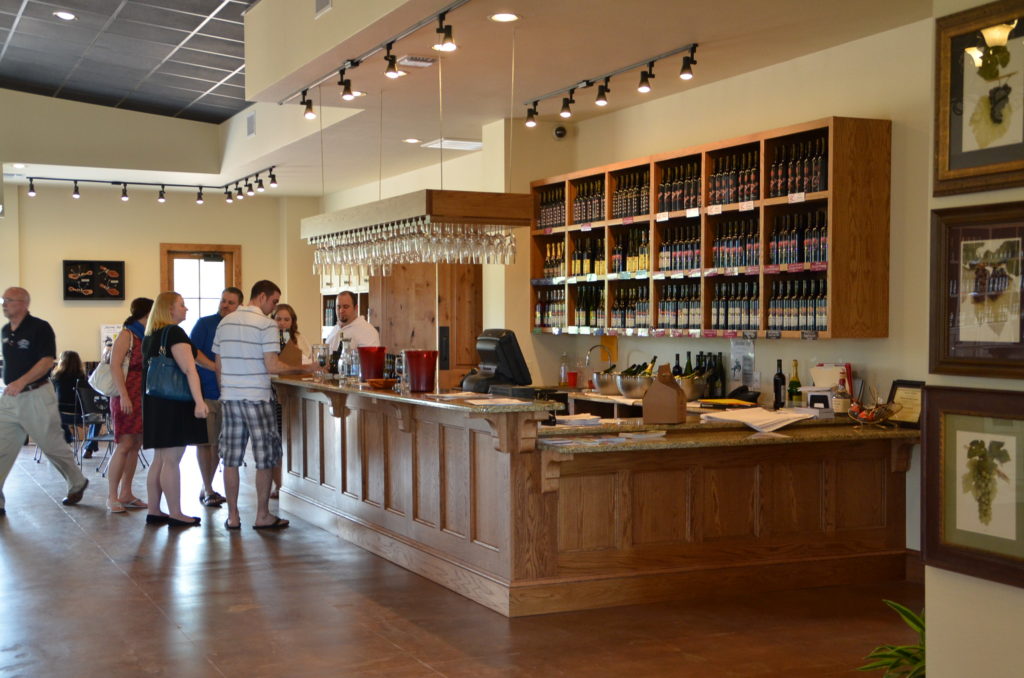 Becker Vineyards
While we were already out on the wine trail, we decided to go to a second vineyard. Becker Vineyards is in Stonewall, and it's one of the largest wineries in the area. We were warned that it could get uncomfortably crowded, and packed it was. Inside, it was hard to get the attention of the bartenders, and some of the other patrons were pushy. But the outside area was beautiful; people were picnicking, napping on the grass, playing with dogs, and a band was playing live music. The vineyard did an event with free pasta earlier in the day; they often have cool events like that.
The tasting worked the same way here; $10 per person, and you keep the wine glass. You get six tastings here, and since we shared, we got to try a total of 12 wines. I wasn't wild about any of them, but it was still a fun experience, and my husband really liked the pinot grigio and Riesling. By that point, I was a wee bit tipsy, so it was time to go back to our place and take it easy until dinner. Note that several companies offer winery tours that take you around in vans from place to place so you don't have to drive after trying a few too many wines.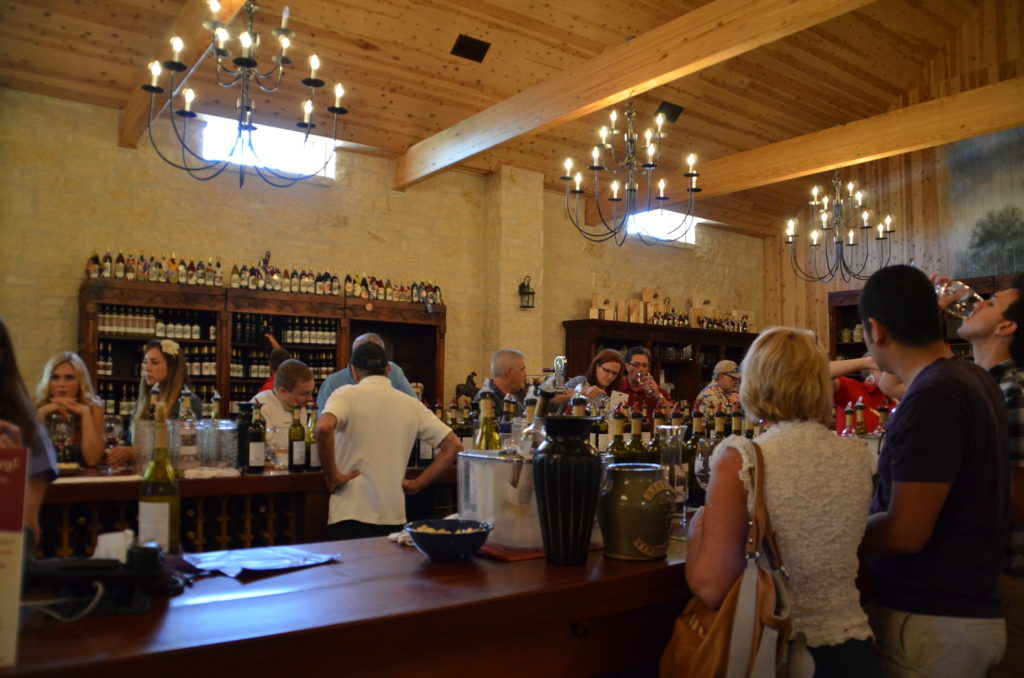 Movie and nap
We found a Redbox at the local HEB and indulged in a lazy afternoon until dinner. Hey, it's vacation!
Dinner at Navajo Grill
I'm reluctant to mention this place. A foodie I respect recommended it, and it had very positive ratings on TripAdvisor and Yelp, so we gave it a try. While the food was delicious, the service was horrendous. Truly some of the worst customer service I've ever experienced at a restaurant. It was especially upsetting since the dishes were around $30 a plate. Based on all of the good reviews, I have to think that they were just very understaffed or having a very unusual night. The main thing I liked was that my salmon was served with seared pumpkin in a sweet honey balsamic sauce. I've never had pumpkin that way before, and it was very good.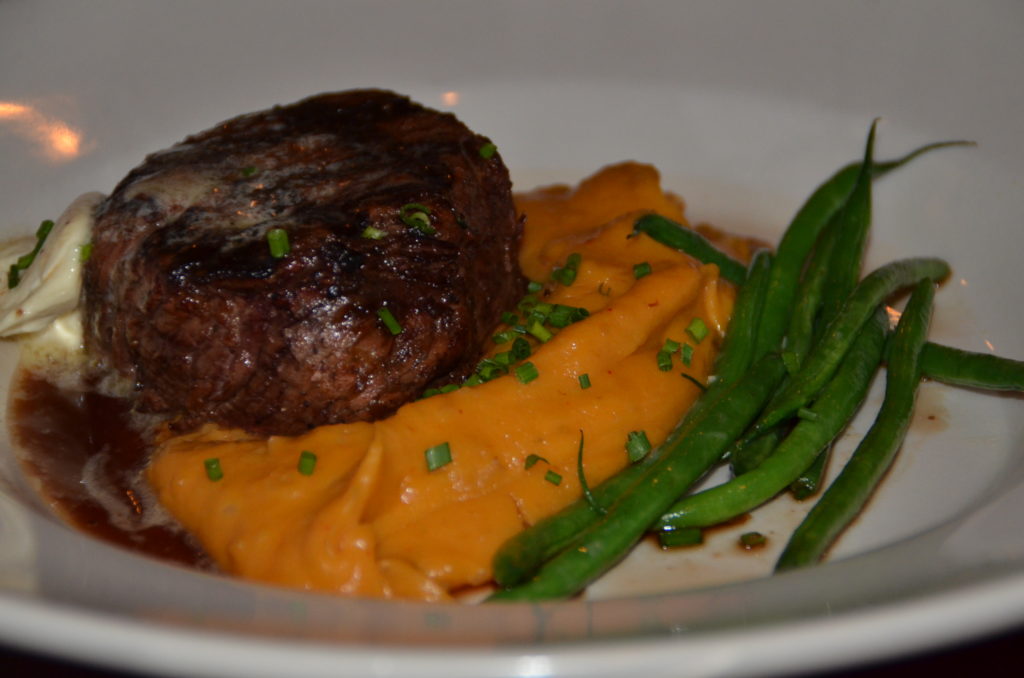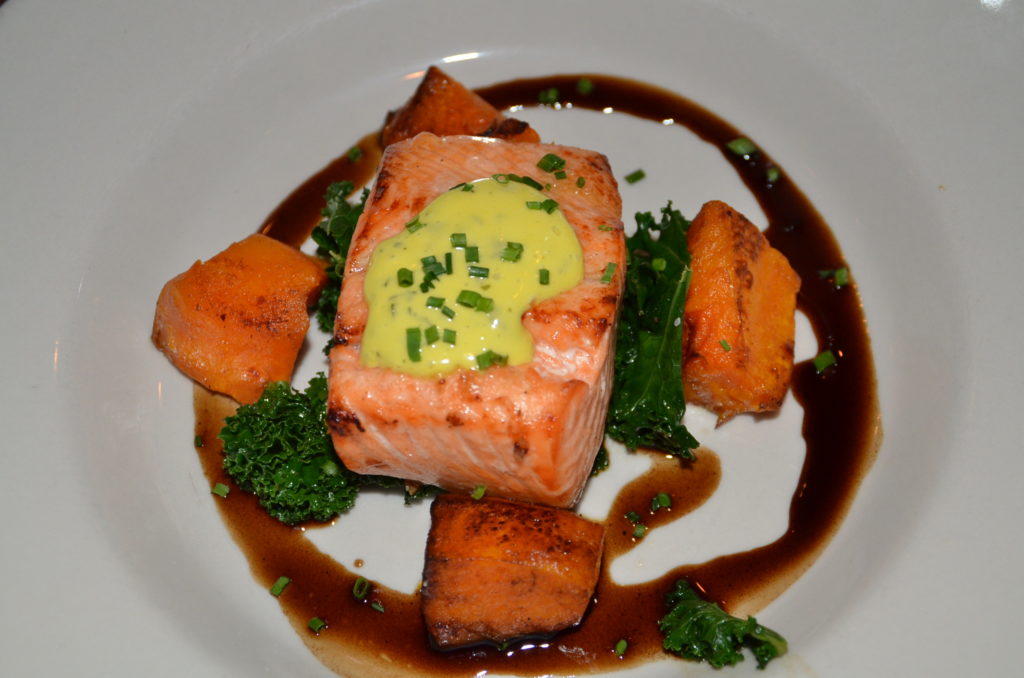 Sunday
 Amish Market
We woke up late and had some time to kill before lunch. This store was on the quiet part of Main Street near where we were staying, and I wanted to go poke around. I was disappointed to learn from the shopkeeper that there are actually no Amish people in Fredericksburg; the store imports their Amish goods from places like Pennsylvania and Ohio. But the good news is that everything there is genuinely Amish. There were Amish cookbooks, noodles, wooden cooking utensils, syrups and molasses, candies, and knickknacks. We left with some tasty Amish cheese.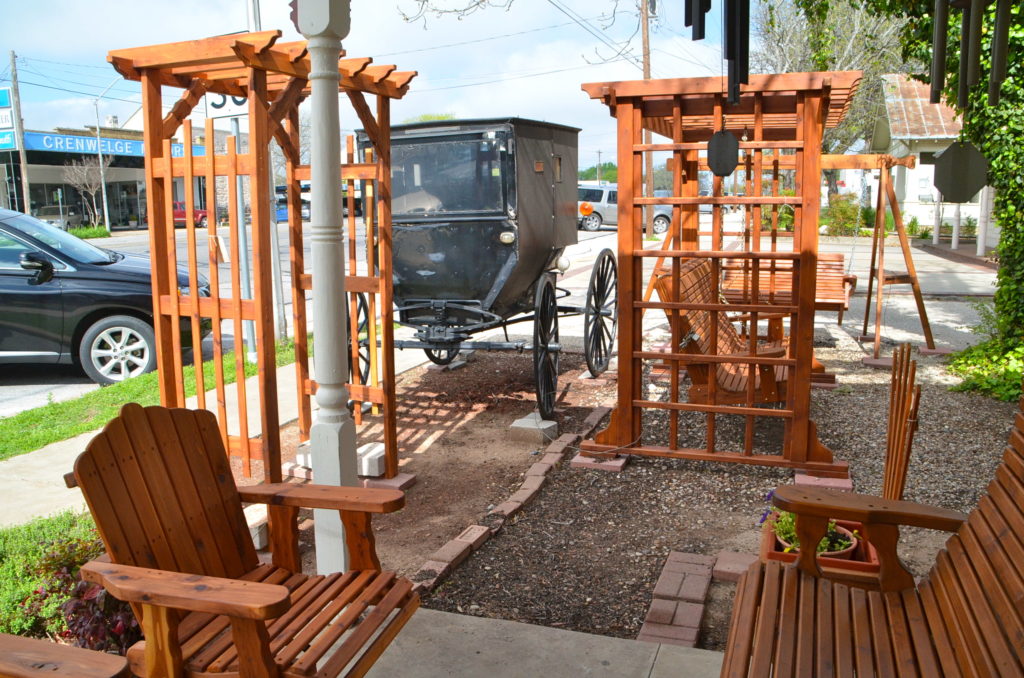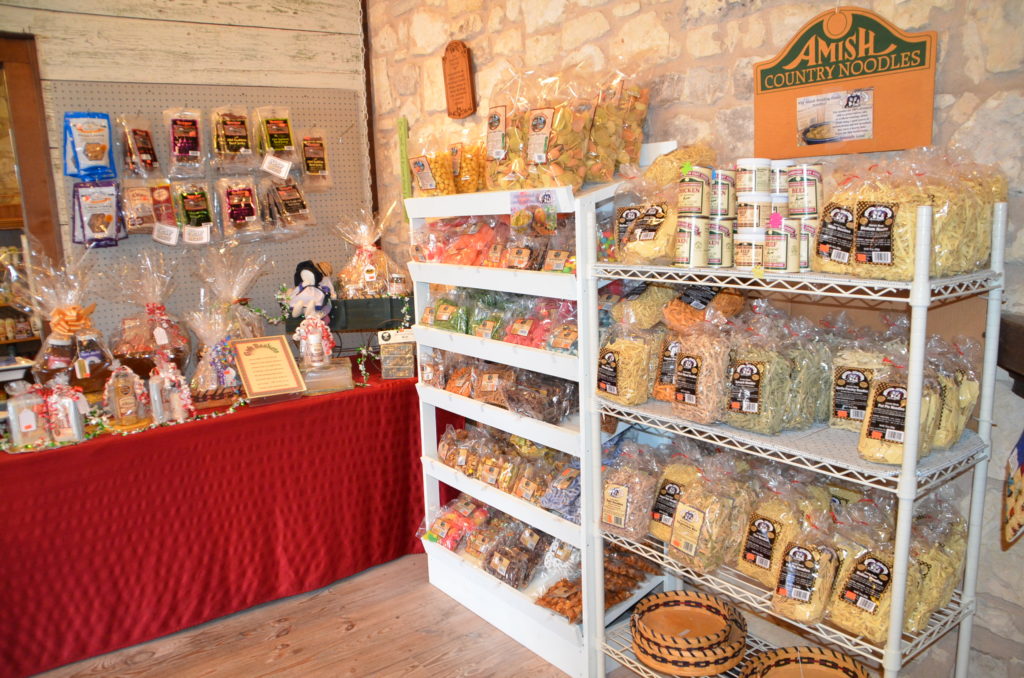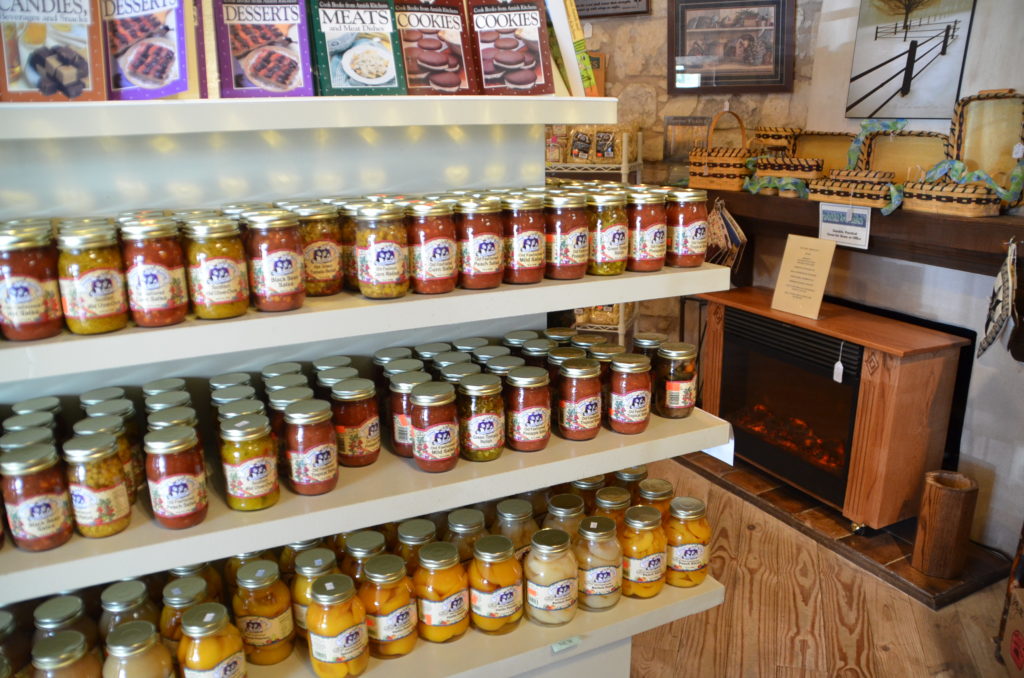 Fredericksburg Brewery
Mary Ann said visiting this brewpub is a must, so we had lunch here on our final day. Texas alcohol laws are very strange; if you make beer, you can sell it locally through a distributor, but you can't sell it from your own brewery. So what Fredericksburg Brewery does is sell the beer only on-site; this means they don't have a distributor so you can't buy it anywhere else, but you can enjoy the heck out of it while you're there.
My husband ordered the beer flight, which gives you 4 ounces of each of their freshly-brewed beers. It's served in order from light to dark, and while I'm not really a beer drinker, I enjoyed watching him taste and critique them. He fell in love with the Enchanted Rock red ale. If you like one, you can buy a big jug of it for $18 to take home (I can't remember exactly how much it holds). The friendly waitress said if you come back and bring the jug with you, a refill is only $12. Amazing! The food was your average American fare–not spectacular, but certainly good. It was really neat to eat with the brewery tanks out in full view.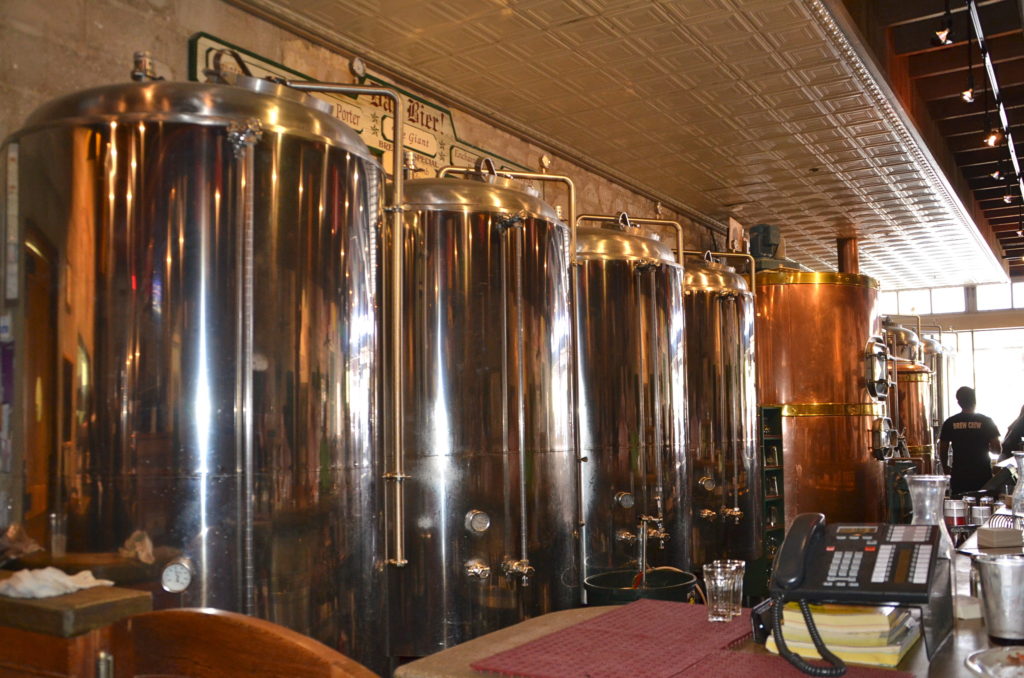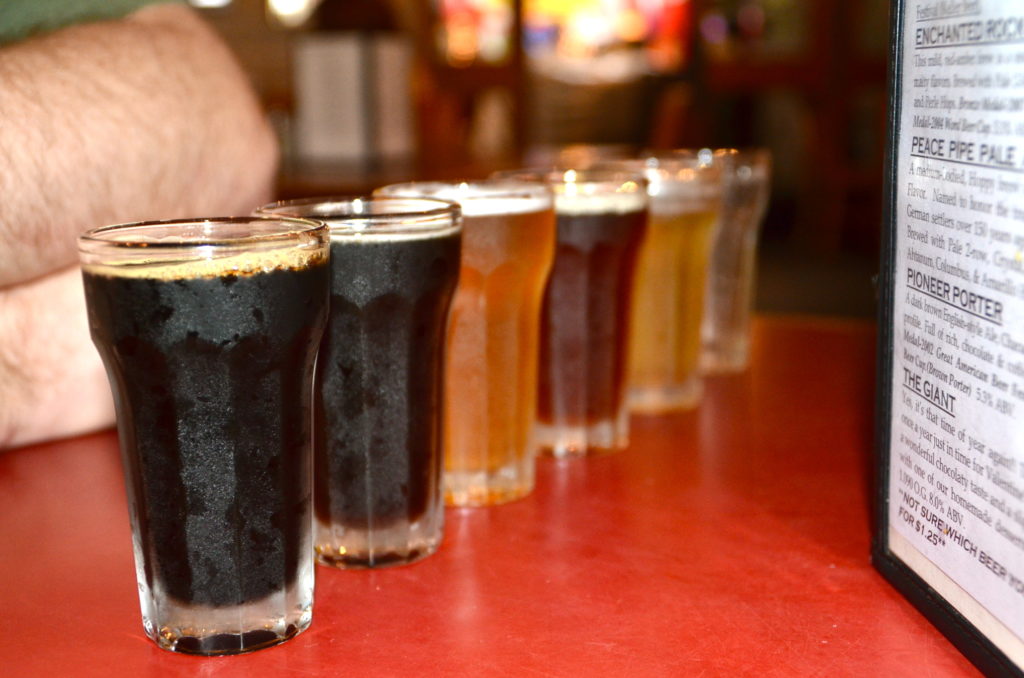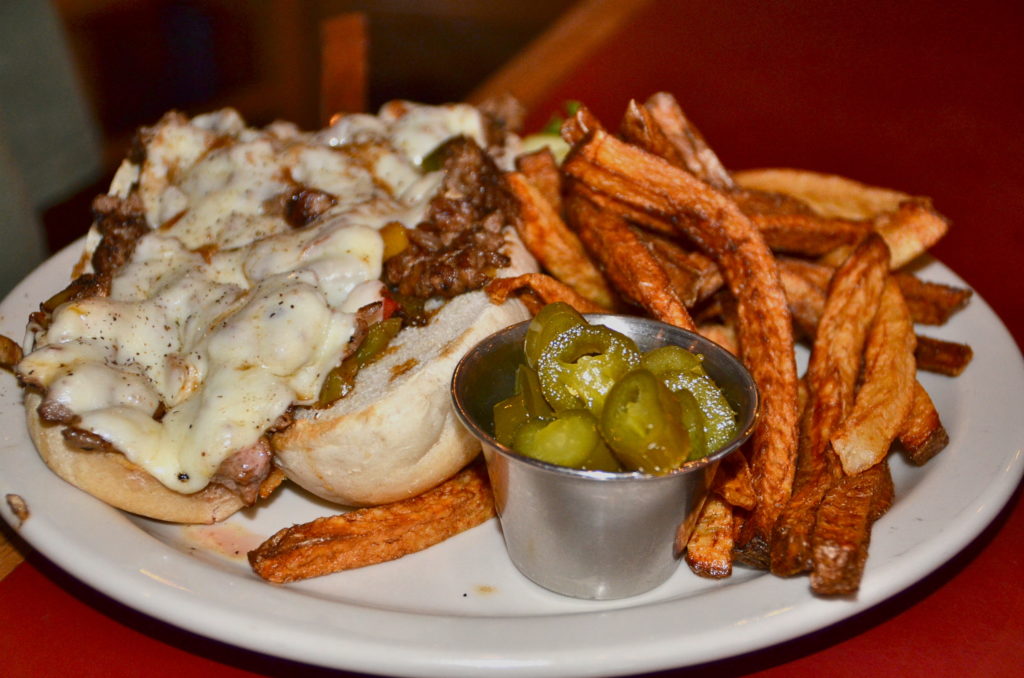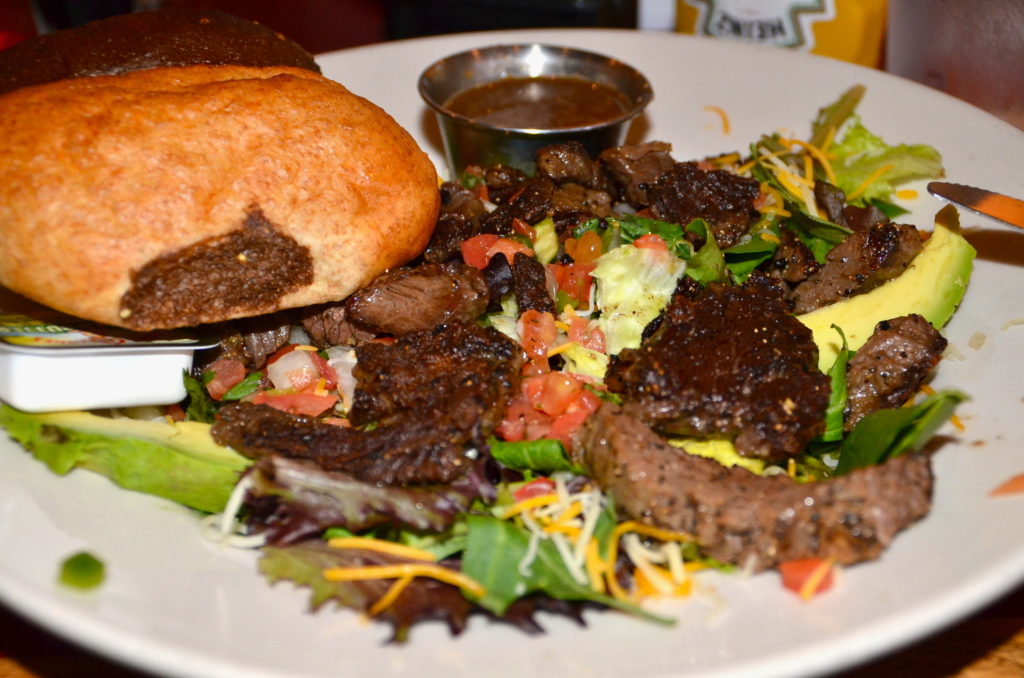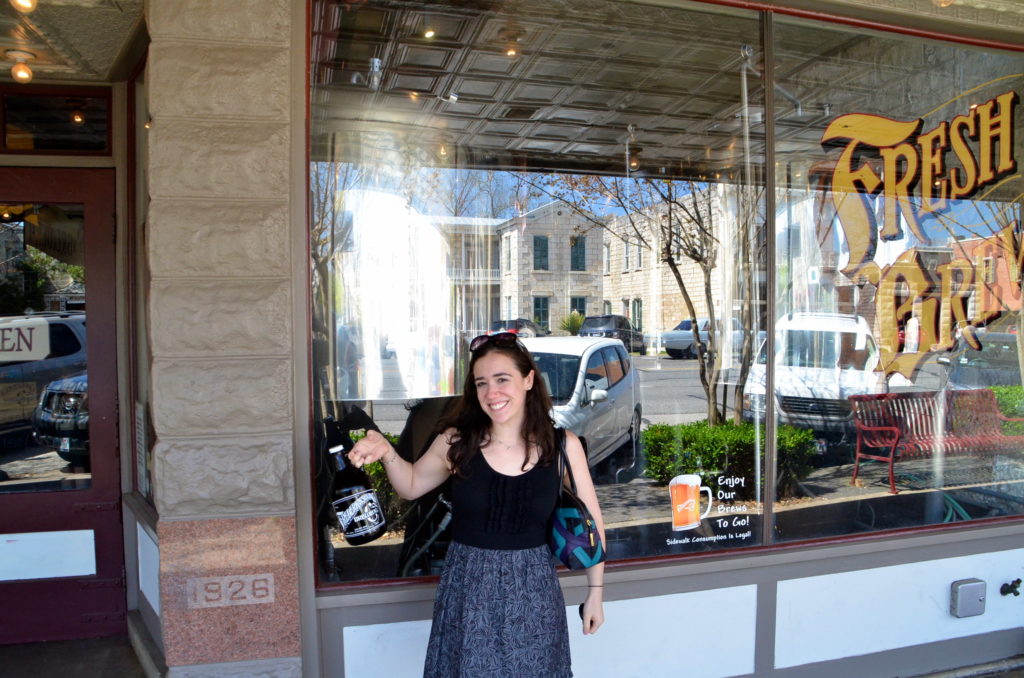 Phew! We definitely plan to go back so we can visit some of the other wineries and try some of the other restaurants that were highly recommended. Have you ever been to Fredericksburg?