One of the most important cities in South America is Lima,
Peru
. It has a population of nearly 9 million people.Lima boasts 3 rivers, the Rimac, Chllon and Lurin and is home to the port of Callao. The city will host the 2019 Pan American Games. Comfortable yet sometimes cool temperatures, because of the Pacific breeze, mean that summer months average 18c to 29c, while the winter months see 17c to 20c. Humidity is high during the summer.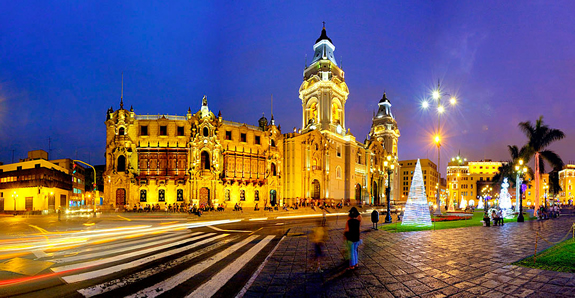 HOW TO GET THERE
Jorge Chavez International airport is South Americas fourth largest airport and Peru's largest, catering for international and domestic travellers. Situated near the seaport of Callao it has good transit links to the center and it's hotels. LAN airlines is one of the biggest passenger carriers to the airport offering flights from all over South America as well as the U.S.The airport has expanded to carry over 16 million passengers and has been voted best airport In South America.
WHAT TO EAT
Lima is the food capital capital of South America and the selections on offer are tantallising.Dishes from all over the world fused with local ingredients as well as Spanish, Chinese, African European and Japanese influences and methods.Many high accolades have been awarded to the city's restaurants and some number in the best in the world.Also gaining international recognition is Peruvian chocolate and coffee. All put together it is a must for anyone on their first Peruvian adventure.
WHAT TO SEE
Central Lima is a World  Heritage Site declared so by UNESCO in 1988. A tour around the centers historic area gives the tourist  plenty to see. Popular attractions include the Archbishop's Palace built in 1535, Aliago House, a privately owned mansion which is open to the public, the cathedral with it's gold plated alter are among many examples of architectural and religious culture. Home to the President is the Government Palace, originally named house of Pizarro, after the city's founder. These sites and others surround the Plaza Mayor which is where executions took place during the Inquisition. Other unique Plazas worth a visit are San Martin and Dos de Mayo. The two main beaches are at the southern and northern ends of the city and during the summer are very popular with both locals and tourists. There are numerous bars, nightclubs, restaurants and hotels to cater for every taste, so after a day of culture head off to the beach and soak up the atmosphere.
SHOPPING
Lima has an abundance of shopping malls scattered all over the city. For arts and crafts the best choice is in and around the historic center but for fashion and general purchases hop onto the metro system and pick your mall.