New York City is one of the most pet friendly cities you will ever find! From the hotels that welcome your dog with open arms and gifts to the fancy shops and restaurants, you're able to take your dog with you almost everywhere you go while you're here.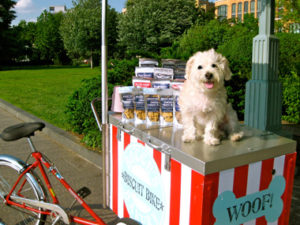 Where to Sleep
Many of the best hotels in NYC are pet friendly, so no day has to start without some sloppy kisses from your bestie. One of the best hotels for you and your canine companion is Loews Regency, who has a pet program that welcomes your little friend with a basket full of goodies! They'll get their own bowls, treats, beds, scratching poles and litter boxes for the  cats and food to order if they should so desire! This hotel also offers dog-walking and pet-sitting through the hotel rather than a third party. Up to two pets are allowed per room and there's no weight limit, so everyone is welcome! Some other great hotels, with or without your pets include, but are certainly not limited to On The Ave, Sofitel New York, The Skyline Hotel and Renaissance NY Times Square.
Where to Eat
Les Enfants Terribles is a little restaurant in Chinatown where people and their pooches can share a slow-braised lamb, couscous or a cornish hen on the patio together. This restaurant is a little on the pricey side for your pooch to have a meal of his own, but maybe afterwards you can track down the Bocce's Bakery Biscuit Bike and find a treat for him. Find the bike around NYC Dog Runs, and you can always track him on twitter if your hound dog can't track down his scent on his own. Some other cool places to enjoy a meal together include the shady patio at The Park on 10th Ave or maybe some pastries, sandwiches and coffee at Once Upon a Tart in SoHo.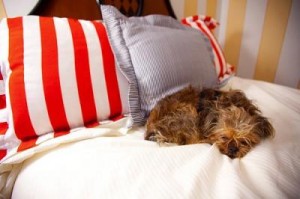 Where to Drink
Von in NoHo is a dog friendly bar on Bleecker Street. Have a glass of wine or cold brew as your dog (or cat) rests on a cushion by the window and naps or mingles with the rest of the crowd. There's a pretty good wine selection for the two-legged members of the crowd to enjoy. The Levee is another spot to throw back a couple with your four-legged friend. Check out this Williamsburg bar and enjoy a whiskey and some grub that's sure to cure any hangover. There are several other pet friendly bars in NYC, whether the dogs are allowed inside or they have a nice patio to enjoy cold brews on a hot summers day with man's best friend.
Where to Play
Prospect Park Dog Beach is a fun spot to cool down at in the summer, and it just so happens to be NYC's only dog beach. Bring a towel and enjoy a fun afternoon mingling with all the other hot dogs in these parts. If you came without your significant other, or your dog does count as the significant other in your book, feel free to hop aboard a carriage ride in Central Park for a romantic afternoon stroll as you sightsee. Many of the best NYC parks are pet friendly, so of course head to Central Park, Socrates Sculpture Park, Madison Park, Union Square Dog Run (and the list goes on and one). Basically, you're not going to have a huge problem finding a park to play in while you're in the city.
Where to Shop
Many of the street fairs and outdoor markets in NYC are pet friendly, so you don't have to make a pit stop back at the hotel when you're attending one this summer. Many of the high-end boutiques and major stores welcome in the well behaved dogs, especially when you can carry them in your arms or bag. As long as the big boys aren't going to run amuck or leave any treasures behind, many store owners are glad to have all members of your family.
Traveling with your dog makes everything a little less lonely. Everything you do is a little less lonely with a traveling companion, and this traveling companion fortunately doesn't talk your ear off. Some of the best things to do in NYC are pet friendly, so why wouldn't you bring your dog with you while traveling?
This article was written by Lizz Riggs, editor of NYCTourist.com.