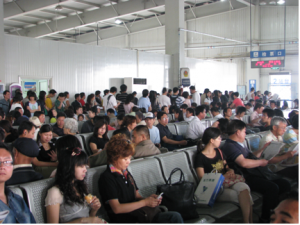 The following is a guest post by Lyndsey Biddle. Lyndsey writes for briefcases, a website that offers luxury briefcases direct from the manufacturer.  Lyndsey currently lives in Kolkata, India where she is studying the Bengali language and learning to cook Indian food.
I have spent over three years living and working in China. As an English teacher, I took advantage of the significant amount of vacation time the Chinese government awarded me to explore the country. Oftentimes I traveled throughout China on my own and as a solo Western female traveler, it had its up-sides and downs. But no matter where the destination or who you are traveling with, traveling through China by train is by far the most rewarding way to go.
By taking the train you can take in the sights of the countryside and get a glimpse of a China that you won't see in the city and especially not by taking an airplane to your destination. Plus, the train is a social hub, a place to interact with fellow Chinese passengers. You can share stories and get first hand advice on your destination which your Chinese cabin members will eagerly share.
Chinese trains generally have an aisle way on one side of the train car and open compartments to the other side with six berths (three on each side) for the 2nd class or four berths (two on each side) for 1st class. I have always traveled in 2nd class because it is much more economical and infinitely more social.
In the 2nd class compartment, the bottom berth is the most expensive and will be used by those in the upper bunks as a common seat during the day. I always steer clear of the bottom bunk – I like my privacy and don't really like having someone else sitting in my space. The middle bunk is the best. It is not difficult to climb into and provides enough privacy from those sitting on the lower bunk and by passersby. The top bunk is cheapest and affords the least moving space but does give the most privacy.
Before your journey I suggest packing a bottle of water, some snacks, and a few packs of instant noodles. Hot water is always available on the trains and meal times turn into a mass frenzy of noodle slurping. Be sure to join in. Vendors will also frequently roll carts past your compartment selling whatever snacks you may want or may have forgotten to pack.
At the beginning of your trip a ticket collector will ask for your ticket, in exchange giving you a token with your berth number. When the train is nearing your destination the ticket collector will notify you and return your ticket to you. This is a great service that saves you from stressing over whether your stop is coming up or not.
All in all, seeing China by train is a unique experience allowing you to see another side of the country and interact with other Chinese in a new way. I have never felt uncomfortable or unsafe while traveling on Chinese trains. Rather, the ambiance plus the big fluffy blankets provided on the trains is one of the most relaxing experiences you can have. You can buy tickets from elong.com, from any local travel agent, or directly at the train station.