Exotic. Historic. Beach. Bars. Affordable. These words rarely feature together when describing an ideal holiday destination. Sure, you can find beaches and bars but no history or culture. And usually when exotic, historic and beaches are involved, the concept of affordability flies out the window. That is until you visit Bodrum, Turkey.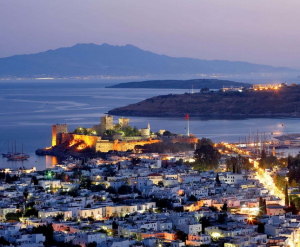 Bodrum offers a great contrast of activities and sightings of both the ancient and the luxurious modern allowing tourists to indulge to their comfort levels.
As one of the Turkish tourism centres, are frequent, keeping flight prices affordable. The airport lies 35km away from the town, making your commute a comfortable and quick one.
Climate
Winter and spring (November through April) is an ideal time to travel with February being the ideal month with cool evenings and less rain. Summer should generally be avoided as the climate is harsh. Expect temperatures to reach the 40 degree Celsius mark.
Activities
But it is the sun that tourists flock for. The water is warm, crystal clear and swimming areas are cordoned off to protect swimmers from boats. After you've enjoyed a relaxing swim in the sea, it's time to prop your feet up on one of the many sun-beds and bean bags scattered in front of beach bars and restaurants. The sun-beds are free to use but do expect an enthusiastic waiter to visit you regularly. Be sure to visit neighbouring beaches Beitez and Gumbet which are the best options for sunbathing offering actual sand instead of Bodrum's pebble beach.
Another great sun-worshipping activity is to charter your own boat for a trip around the bay. This is an absolute highlight; jumping into the fresh ocean when it either gets too hot or you spot something you'd like to take a closer look at (snorkeling gear is widely available for sale in Bodrum).
Getting Around
The best way to get around Bodrum is by a dolmus, a shared taxi and one of the cheapest ways of seeing the coast. Getting to landmarks is not difficult and if you're less inclined, car hire is a viable option. Even if you have come to Turkey just for the sun, make sure you spend some time visiting the ancient sites. These are must-sees.
Historical Excursions
Built in 1402 Bodrum Castle is probably the most prominent landmark in the city and is one of the best examples of medieval architecture anywhere in the world with excellent views of the town. The Bodrum Amphitheatre is an ancient structure credited to King Mausolus. The theatre is another witness to the great past of Bodrum, and it is one of the best preserved structures of ancient Halikarnassus. Another is the mausoleum of Halicarnassus, which is just a short walk from the marina.
Nightlife
There are two options for nightlife in Bodrum. The eastern half of the town is filled with bars, restaurants and nightclubs. This strip of beach tends to come alive only at 10pm and tends to be rowdy and jovial, while the western half of the town is a little more sedate. Life revolves and caters to those around the Marina and yacht club. During the evenings there is a wonderful atmosphere as the locals and tourists all seem to promenade along the sea front.
Bodrum ranks highly as an ideal getaway simply because it offers so much for an affordable price. There are few reasons not to go!