I'm currently on my delayed honeymoon in Seattle and Vancouver, so I'm featuring several guest posts while I'm away. Enjoy this very relevant guest post from Sarah Ellis! I love that she makes the point that not everyone can afford something extravagant, and that it's OK. I had my heart set on Spain for my honeymoon and was so sad when it didn't work out, but Seattle and Vancouver are what work for our budget, and I've come to realize that it's OK and will be a blast anyway!

Getting married soon? Here are eight tips for planning a successful honeymoon.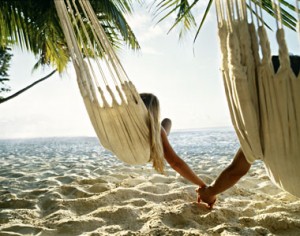 1. Work with what you've got
Sure, every newlywed couple would love to spend two weeks laying on a beach somewhere in the tropics or exploring a romantic Italian city, but not every budget allows for that. And you know what? That's okay! Money can be a touchy subject, and not all newlyweds have their budget figured out, so overdoing it during your first week of marriage can put you both in a foul mood when you return from a vacation that you can't afford. Be smart and find a balance. It's your honeymoon–you'll enjoy each other at any price. You've got the rest of your life to take snazzy romantic vacations.
2.  Plan ahead
Delegate planning–to one of you, between each of you, or to a travel agent. And do the planning ahead of time. Wedding planning is a beast of its own, and waiting until the last minute (or making assumptions about who will take care of what) can result in unwanted stress. You'll be busy enough checking in with your wedding vendors; making last minute flight and hotel reservations can add to your already high stress levels. Also, make sure you double and triple check travel requirements and documents needed. If you're left without a passport or visa, you're out of luck. No one wants a honeymoon that starts off like that!
3. Manage joint expectations
As soon as you get engaged, start talking about places you'd want to go. Maybe all you've dreamt about for your honeymoon involved laying on a beach and ordering cocktails. But what if all he wants to do is sight-see and explore? Better to have the arguing over what to do and how to do it BEFORE the honeymoon begins than on it. And compromise, compromise, compromise because it's about BOTH of you now.
4. Be easy-going
Like Murphy's Law, remember that anything that can go wrong, will go wrong. But what can you do about it? The airline may lose your luggage–you're on your honeymoon, who cares about clothes? The hotel may be full of crazy tourists or not at all like advertised–have a laugh about it! Your life together will be full on unexpected events and often time things that are out of your control. Learn to roll with the punches now, and you'll learn how to deal with bigger things later in life. If there's anything I've learned from my parents, it's that you have to learn to laugh at things you can't control. Besides, it's a lot better to just laugh then being sour during your entire honeymoon!
5. Relax
The craziness of all that leads up to your wedding can be pretty draining. Your honeymoon is all about recharging. Connect with each other in new ways and leave your phones and laptops out of the picture. Work can wait; your honeymoon can't! It's one of the few times in your life you can totally unplug from "real life" and just bask in the bliss of being a newlywed. You'll never get that time back.
6. Be realistic
For some newlyweds, a honeymoon is the first week they've spent sharing every second together. For some couples that's more than welcome, but it is certainly an adjustment. Hey, you might bicker a little bit, but don't let it ruin your trip. Molding from "he and she" to "we" isn't as smooth as we'd like it to be. You're still adjusting to a new lifestyle, so be patient with each other! Just don't have unrealistic expectations about everything being perfect, and give each other space if need be.
7. Learn more about each other
I heard an old man say, "Always study your partner; there's something new to learn about them all the time." Basically, we're complex beings! We may think we know everything about each other, but we certainly don't. Honeymoons are a great time for uninterrupted discussion, so pick your partner's brain and enjoy learning more about them. A new place and a new experience can bring up new topics. Dream together! Laugh together! Enjoy learning about each other more and more–it's delightful.
8. Live it up!
So many wonderful experiences happen on your honeymoon, so enjoy every second! Try things you wouldn't necessarily try on any other vacation. You may pick up a new hobby! And at the very least, you'll make a great memory. Step out of your comfort zone and try out a zipline, or snorkeling, or dune-buggies! Experiencing new things together is what your honeymoon is all about. Enjoy it and enjoy each other!
Sarah Ellis is a bride-to-be and says that wedding planning has been the best time of her life! She has been looking forward to taking her fiance overseas for the first time. They're going to Jamaica for their honeymoon – Ya Mon! As a writer for TravelProducts.com, she enjoys sharing travel tips with other travel enthusiasts. She's also a fashion blogger, dog lover, girlie-girl, and lover of her soon-to-be hubby!
photo credit: groomsadvice.com