Cruise Ships are huge – it's no secret. What people don't commonly know is that the inside of a cruise ship is just as impressive as the large exterior. Inside you can find all kinds of interesting things that you might not necessarily expect to find on a boat like water parks, zip lines and ice cream parlours. Below is a list of our 10 favourite things to do while out at sea on a cruise.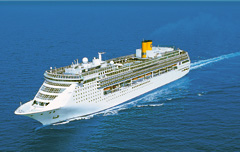 1. Casino
It's not just on dry land that you can hit the slots these days. Some cruise ships now have on-board casinos where you can play all of your favourites like blackjack, roulette and poker. Just remember not to get too carried away! Some Caribbean cruise itineraries, such as those provided by Thomson, use ships that have on-board casinos – details can be found here.
2. Nightclub
If you like to go dancing, an on-board nightclub is for you. Bopping away to all of your favourite tunes on board a multi-thousand ton ship is not to be scoffed at. If you've had a few drinks just remember that you're out at sea, so the ship can occasionally rock 'n' roll (excuse the pun).
3. Ice Rink
If you thought ice skating on dry land was fun, you should absolutely try it out on a boat. Some boats have built in rinks that, on a hot day, provide respite from the sunshine. What's better is that it's an activity that all the family can enjoy.
4. Champagne Bar
After a long, hard day of sunbathing and lounging around by the pool what better way to unwind than at a champagne bar. Yes, some cruise ships have these too. Most ships have huge selection of fine champagnes for every budget.
5. Water Park
One for kids (and some cheeky adults), the on deck water parks are an interesting experience. If you're not keen on sitting around all day why not get active and try out some of the waterslides that overlook the whole top deck of the ship?
6. Theatre
Forget London's West End – the new go-to place for theatre is on board a cruise ship. After a lazy afternoon at the champagne bar, go and see a fantastic show that's been carefully rehearsed by a full cast of actors.
7. Surf Simulator
Australia is famous for its surfing, but who would have thought you could catch huge swells on the deck of a cruise ship? The Surf Simulator does exactly as its name suggests and simulates waves for you to surf on. Be warned: it's more difficult than it looks.
8. Rock Climbing Wall
Some people go to the gym, some people get on an exercise bike and some people do lengths in the pool. There is, however, an alternative… Rock climbing isn't something that springs to mind when on a cruise, but some ships now have full-size climbing walls to scale. If you can make it to the top in one piece you should reward yourself with an evening of wining and dining in one of the ships restaurants.
What experiences have you had on board cruise ships? Is there anything we haven't listed that you think should make the cut? Let us know in the comments!