This is the first of a five-part series about how you can travel the world for free.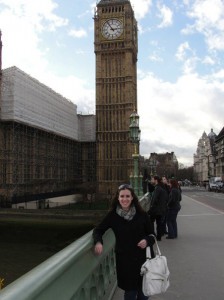 Last month, I went to London for a week for absolutely free. How did I do it?
For my day job, I work as a copywriter and content strategist for an international company in the travel industry. We are based in Texas, but we have two offices in the UK and several others in Europe. I began working only with the US brands, but many months prior to my trip, I began helping the UK teams with their copy. My boss realized that it would be a great idea for me to go over there and get some face time with these teams and meet the management.
The company paid for my flight to and from London, for my hotel for six nights, for my transportation within the city, and all my meals. I spent nearly all day every day in an office, and by the time we were done, it was often getting dark outside. Then there was a train ride back to our part of town. As Stephanie at Twenty-something Travel points out, business travel isn't often fun.
But I was all the way over there for free, so I wanted to make the most of it. I traveled there with two female coworkers around my age, and because we were already friends, we had good company. In the evenings, I was free to explore town and do whatever I wanted to. I met up with some old friends who lived there and we had a ball. On my last day, we finished up early at work and wandered around Big Ben, Westminster Abbey, and Trafalgar Square. We went shopping in Chelsea, and we went to a modern art museum. I dined at some fabulous restaurants on the company dime and stayed in a wonderful hotel at no cost to me (though I had to foot the bill for shopping and entertainment). Sure, I had to work my butt off most of the time I was there, but when I was done at the end of the day, London was at my fingertips.
Once you are in a major European hub like London, it is very cheap to travel throughout the rest of Europe. The most expensive part of international travel is just getting there, and I was already going to be over there. I asked my boss if I could stay in London longer by using some of my vacation time. The company had no problem extending my flight home by a few days — they had to send me home at some point, anyway. I took that opportunity to hop over to Istanbul on a cheap flight for three nights (on my own dime, of course) with another coworker. When I was done, I flew back to London, and then hopped on my business flight back home.
If you want to travel internationally, you can try to find a job in another country, but visas can be a major issue. If you don't want to leave you home country permanently or mess with visas, find a job with a US-based company that has offices abroad. Work hard to make yourself valuable in the global business. Start making friends with folks in the international offices. Ask them if you can help with anything. If you can make a great case for why you need to visit one of the overseas offices, you just might get sent over there.
If you are interested in a job like this, here are the career pages for several global companies:
Facebook
Travelzoo
American Express
Google
Shell
Read the other posts in this series:
5 Ways to Travel For Free: Enter Travel Contests
A message from our sponsors: Prepaid phone cards are great for world travel. Learn how to make free international calls!