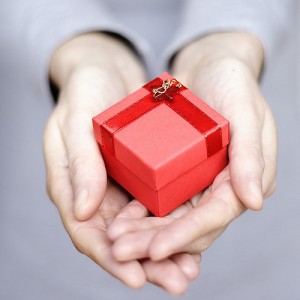 This is the last post of a five-part series about how you can travel the world for free. Be sure to check out the first post, second post, third post, and fourth post.

This one sounds obvious, but most often, it's not. When it's our birthday, an anniversary, Christmas, Hanukkah, Mother's Day, or whatever else the occasion, most of us just ask for electronics, jewelry, or generic gift cards. Many times, these things go unused or are unnecessary and do nothing but clutter up our homes. You can avoid unneeded junk and travel for free if you simply ask for the right gifts.
While some friends and loved ones are happy to throw cash at you without a specific goal in mind, most people want to feel like they are buying you a real gift. If you want to go on a specific tour, you can give your family members the brochure or website so they know what they are contributing toward. You can send them an itinerary of where you want to go and tell them how much the flight will cost. I have friends and family members who have done this, and more often than not, their loved ones were happy to help them achieve these travel goals for special occasions.
If you need gear, like a new backpack or travel guidebooks, ask for those as presents. You can also ask for travel-related gift cards. Here are examples of some of the travel gift cards available:
Travelocity Hotel gift cards
Southwest Airlines gift cards
American Airlines gift cards
Marriott gift cards
Budget Car Rental gift certificates
Viator tours gift cards
Additionally, if you are engaged, you don't have to make your wedding registry full of plates and gravy boats — try a honeymoon registry. Websites like HoneyFund make it possible for guests to contribute directly to your dream honeymoon trip. To make people feel like they are really giving you something special, you can create a list of "gifts," like a day tour of ruins, breakfast in bed, a boat ride down a river, a hang-gliding expedition, a massage at a spa, a romantic picnic, etc. Your guests aren't actually buying you that individual thing — they are really just giving you cash — but it's a great way to give them the sense that they are buying you a specific experience and a fantastic way for you to travel for free.
Next special occasion, don't waste your precious gifts on things you don't need. Tell your loved ones that you want to travel, and let them know that you would appreciate them helping you have those experiences rather than accumulating more uneccessary stuff.
Have you ever given or received travel as a gift?
Photo by MarcinMoga