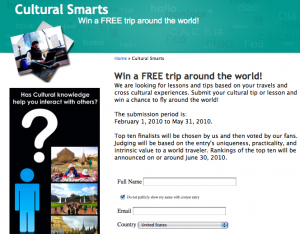 This is the second post of a five-part series about how you can travel the world for free. Be sure to check out the first post.

Do you often see advertisements for travel contests in magazines, television commercials, or Internet ads?
Do you ever bother to enter them? If not, it's time to start — after all, someone has to win them, and it could be you that lands a free vacation. I have seen contests for a free cruise to Antarctica, an adventure to the Galapagos, a 3-month American road trip, an around-the-world airline ticket, an African safari, a shopping spree in NYC, and everything else under the sun.
I used to write for About.com, so I met Sandra Grauschopf, who runs the About.com Contest site. Her site is by far the most expansive resource I have found thus far for contests. She has all of the travel contests categorized together — one section for domestic travel contests and another for international travel contests. The blog Amateur Traveler also features a great list of current travel contests.
Some travel contests only require you to fill out a generic contest entry form, but for some of the larger ones, they require you to get much more creative and submit a video or essay explaining why you should be the winner. In the contests that require content creation, the winner is often selected by votes from other users, though some have a panel of judges instead.
Contests can have strict rules. When you enter, make sure to read the terms and conditions closely. Some allow anyone age 18 and up to enter, while others require you to be 21 or 25. Some allow anyone to enter, while others only allow people from the United States (or certain states) to be eligible. There are also rules about how and when you can redeem your prize, so pay attention to the fine print before you try to win.
Many travel contests only allow you to enter once, but many allow multiple entries. If you enter one that allows multiple entries, put a reminder in your calendar to enter every day until it closes. Note that the contests that allow multiple entries often require you to register for an account to enter; if you don't want to create an account with a password just for one contest, you may want to stick to contests that only require you to fill out an entry form once.
Don't believe anyone actually wins contests? Check out Sandra's photo gallery of contest winners.
Good luck!
Do you ever enter travel contests online? Have you ever won anything?