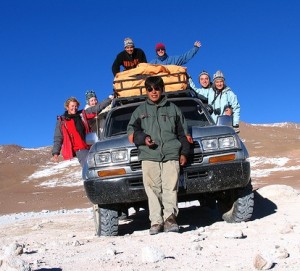 This is the third post of a five-part series about how you can travel the world for free. Be sure to check out the first post and the second post.

If you have loads of patience and enjoy sharing your love of travel with others, becoming a tour guide is a fantastic way to explore the world for free (and get paid at the same time).
Companies all across the world need tour guides. Some guides exist simply to show visitors around a specific area, while others have an emphasis on history, culture, cuisine, and/or wine. Tour guides take travelers on safaris, hikes, hang gliding adventures, and cruises. Some tours last only a few hours, while others can last several weeks or longer.
I have had tour guides to show me around the Vatican, to drive me along Hadrian's Wall in Northern England, and to take me on a journey along the Scottish borders. As a traveler, I think a good tour guide can be invaluable.
That is why my sister and I chose to go on a tour with Contiki last summer for our first trip to Greece. Contiki is an Australia-based company that offers tours for those aged 18-35. The five-night trip started with an evening in Athens, and then a cruise through the Greek islands (with a stop in Turkey). The cruise was not Contiki-only — many other tour groups and individuals were on board — but we did many group activities and dined together.
During the journey, I spent some time talking to our tour guide, Dan. He was a friendly young guy from Australia, and he had been working as a tour guide for several years. He said some people can't handle it for very long, but he loved it and couldn't imagine doing anything else.
Every once in a while, Dan is placed on a new itinerary, but he has been doing the Greece and Turkey bit for a long time. He said he still hasn't gotten sick of it. He loves meeting new people and showing them around one of his favorite parts of the world. He has also learned so much about local history, culture, and language. He has a home base — a small apartment he shares with other Contiki guides — but he said he's almost never there.
Dan told me it's hard to maintain a romantic relationship or long-term friendship when you're always on the move, but he gets to spend his days traveling and sailing around one of the most beautiful places on earth. He doesn't get much time off, but when he does, he is already in Europe, close to so many other countries and sites.
It was no question that Dan absolutely loved his job, though I saw how it could be challenging. Getting our large group to the pier, through the baggage check, through customs, and onto the boat all together, and then in reverse at the end of the cruise was a feat. One girl on the trip had special needs (I believe she had Asperger's syndrome or something similar) — her mother thought the trip would be good for her, but it was a disaster, and Dan had to spend a lot of time making sure she was OK. It can be a lot of hard work to handle a group of tourists, but if you love to travel and share that passion with others, it's a great job to have. I am also friends with someone who spent several years in Africa as staff on tour guide company. Though she tired of it after several years and left it for an office job, she absolutely loved it and looks back on that time very fondly.
Put simply, here are the upsides and downsides of traveling for free as a tour guide:
Pros
You get paid to travel
You often receive free accommodation and meals
You get to constantly meet new people from all over
You have the opportunity to become an expert in a certain destination or field
Cons
You have to do the same tours over and over again
You must have a lot of patience
You may not get to see your family/friends often
You don't choose who is in your tour group, so you may get some difficult people
Here is the job page for a few tour companies that are often looking for tour guides:
Contiki
Intrepid Travel
Gap Adventures
If you don't want to work for one company, you can always start your own company and give private tours.  Read my Q&A with independent Europe tour operator Simon Maxwell for more information.
Photo by Phillie Casablanca
Have you ever considered becoming a tour guide? Have you ever been a tour guide before? Share your experience below!
A message from our sponsors: Check out these calling cards for affordable calls while traveling! You can try these free phone cards to test them out.