I can completely empathize with all the travellers out there who wish it was possible to pack their entire closet and dresser into one suitcase. But allow me to break it to you gently, it's never going to happen. I learned this the hard way. I used to have two check-in luggage and a roll-on carry on for a 3-week trip in the United States with still all the intention to go shopping. Fortunately, I am now older and wiser and I have finally learned to pack light but still look like a girl while travelling.
For those who want to go on backpacking trips, one thing you have to remember is this: just because it fits in your backpack, it doesn't mean you really need it. Even if it feels light when you first try it on, believe me, it's going to feel like a bag of rocks once you're carrying that along the entire day. So here are a few things I learned that allowed me to pack light for back packing trips and still have everything I need.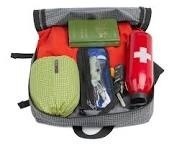 1. Plan what you're going to bring at least 2 weeks before leaving.
First and foremost, it's important to take into consideration where you're going, the activities you're planning to do, and the weather in that country. Once you know this, it would be a lot easier to plan accordingly. Planning ahead is also important because then you can really think about what you just NEED to bring. I found that when people pack on the very last minute, they tend to pack too many things without thinking about it and sort of just stuff them in their bags "just in case" they would need them. But that's just panic packing. If you really think about what you just need, you would be able to pack wisely.
2. You don't need to fill up your entire bag.
People tend to bring as much stuff as possible as long as it still fits. But it's always a good idea to leave some space in your bag. This is also a good idea because you're sure to buy souvenirs or so when you go travelling and the best souvenir would be practical ones like extra clothes in case you run out, rather than trinkets you won't really need back home.
3. Don't pack things you're sure you can find everywhere else.
Wherever you will go, you're sure that there will be convenience stores or supermarkets where you can buy toiletries, first aid kits, or other necessities. Especially when you're travelling with booked hotels, you can be sure that they will provide you with at least some shampoo, soap, and toothpaste which is all you really need for toiletries when backpacking.
4. Pack light clothing.
Unless the place you're going to is really cold, light fabrics are best. You can also make sure that if you will bring tops and bottoms, try to bring ones that you can mix and match with each other so you don't have to bring as much and still look great!
5. You don't need 6 pairs of shoes.
When backpacking, all you need are walking shoes that you can wear on the way so it won't take too much space, a pair of comfortable sandals, and if you really have to, a pair of more decent shoes that are still light and comfortable to walk in. But anything more than that is way too much.