Nice is one beautiful city, so if you're flying to Nice, make sure to check out these 5 top sights: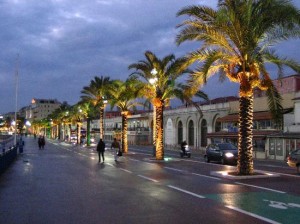 The Nice Observatory
The Nice Observatory is located on the summit of Mont Gros. The observatory was established in 1879. When it became operational one year later, the observatory housed a 76-cm refractor telescope that was, at the time, the largest in the world.
The Promenade des Anglais
Promenade des Anglais ("Walk of the English") is a celebrated promenade in Nice, France. A long, long time ago, during the 18th century, the English took to spending cold winters along Nice's tropical coast. During one particularly harsh winter, an influx of homeless beggars traveled south and populated the not yet urbanized area. The Englishmen proposed that the beggars construct a walkway along the sea as a useful project; and so they did. Now the promenade is one of the most popular spots in the area for both exercise and leisure and is filled with shops, cafes and hotels.
The Port of Nice
Also referred to as Lympia, this port constitutes the principle harbor installation of Nice. It is the only French port with a high-speed ferry to Corsica, so many visitors take advantage of the quick travel time.
The Chateau "Colline du Chateau"
Just about 100% of people who visit Nice, France take a day to climb the steps of the "Colline du Chateau," where, at the top, they can overlook the Baie de Anges, Old Nice and the aforementioned Port. On top of the hill is a luxurious park that boasts high end cafes and the greenest grasses. It has been said that you will get some of the finest panoramic views in Europe at the "Colline du Chateau"
Cours Saleya
The Cours Saleya flower market is a must to visit at least twice. Once in the daytime when it sells flowers, produce and some souvenirs, and again at night when the market stalls have transformed into restautrants. Day or night there are plenty of places to eat in all price ranges. Be sure you have plenty of change and small bills on hand, as the vendors sneer at breaking a large bill to sell a piece of produce.
 *Carson Lane