Round the world travel seems as popular as ever and, as a result, there is a jungle of information online explaining where to go, what to do and why. You can spend weeks trawling through blog posts and forums when planning a trip and come out of it more confused than when you started. I experienced this personally and know how overwhelming it can be, so I've decided to put a stop to it and tell you exactly why Thailand should be your first stop.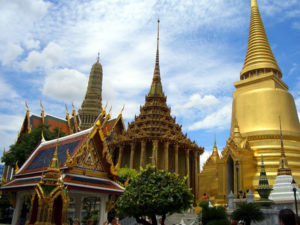 1. Cost
Most young travellers are restricted by their budget. If you're not the son or daughter of a millionaire then you're going to be travelling as cheaply and efficiently as possible (minus all the drinking).
The cost of living or travelling in Thailand is significantly cheaper than most other East Asian countries; you can get a filling meal, a hostel and still pay for any activities you want to do for a fraction of what it might cost you elsewhere. Depending on where you're flying from plane tickets can be on the pricey side, but if you're planning on staying for any length of time it's 100% worth it.
2. Culture
Thai culture is among the most interesting on the planet. The country has a deep and rich history that emanates an almost magical essence, drawing you in at every available opportunity. Often called the 'Land of Smiles', Thailand is home to the world's friendliest race and never have I felt more welcome under any circumstances – even in my own country.
Thailand hosts awesome cultural festivals all year round, so there's never a bad time to visit and as a 'farang' (foreigner), you'll be dragged right into the centre of the celebrations. If you're into history there are plenty of temples dating form ancient times all the way to the present – check out my post on Chinag Rai's mysterious 'White Temple' over at jetsetterjoe.com.
3. Cuisine
Tom Yum Goong, Pad Thai, Kuay Tiew and Som Tam would be to name but a few of the most delicious Thai dishes. Great lovers of sugar, spice and all things nice, Thai people know how to cook with their eyes closed.
Thai food is cheap; street vendors sell hearty plates of noodles and rice for pennies on the dollar and it's probably going to taste a lot nicer and more authentic than your local Thai restaurant at home. If you try anything when you're there make sure you try some spicy Thai green curry.
4. Companions
If you're new to travelling – which we'll assume you are based on the fact that you're reading this post – Thailand is probably the best place for you to go if you're looking to meet new people, both local and foreign.
Travelling on your own can be daunting at first, but you'll soon realise that many other jetsetters in Thailand just like you are out looking for much the same experience. You'll have no problems making travel friends, but when you make your first travel companion, that's when the real world adventure begins.
5. Choice
Simply put, there is an absurd variety of things to do in Thailand. Whether you like to go hiking, explore cultural sites, laze around on beaches, climb mountains, dive in oceans, or you're just there to party, there's literally something for everyone.
In short – go to Thailand.
Joe is some weird guy who founded a site called jetsetterjoe.com. He thoroughly enjoys writing words in a straight line and aims to change the world by making everyone happy. Check out his site here