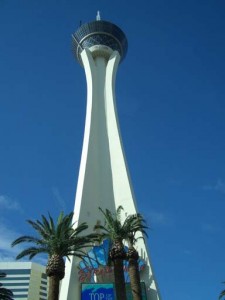 The following is a guest post by Tiersa Buckley.
Thinking about spending your 20-something birthday in Las Vegas?  You couldn't pick a better venue for you and all of your friends, as Vegas always offer up some of the most exciting nightlife and stylish hotels available.
Apart from New York City, this bustling desert metropolis is also a city that never sleeps.  Las Vegas is a place where indulging in a little fun has never been easier.   There are a lot of casinos where you can drink for free, so long as you are gambling and using the slot machines.  If you're not into the club partying scene, there are still an abundance of other options for you to enjoy and keep you busy.
1. Stratosphere Sky Jump
If you're of the adventurous type, the Stratosphere tower offers the ultimate free fall ride in all of North America.  It might be best to savor every moment on the strip before taking the plunge from the 108th floor.  At any rate, the gorgeous Las Vegas skyline can be seen from the Sky Jumps platform before experiencing the rush of descent from 855 feet.  Your solo ticket to ride will cost you around $100 and will cost your friends a tower fee of around $16 if they want to watch all of the fun from above.  The tower also features a great restaurant with stunning panoramic views of all of Las Vegas.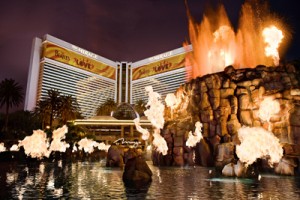 2. Volcano at the Mirage
This is a great event to take in along the strip at night and it won't cost you a dime!  The all new Mirage Volcano has just been updated.  An amazing show, it demonstrates an insane and convincing flow of erupting lava set to exotic drumbeating music.  The Mirage Hotel has used this show to draw more people into the casino and it has successfully worked.
3. Titanic and Bodies exhibits at the Luxor
This is a great place to visit during the day to escape the hot midday Nevada sun.  The Luxor Hotel features two interesting and cool exhibits that take you back in time.  The first exhibit reconstructs what is was like for Titanic passengers aboard its first maiden voyage.  Upon entering, patrons are given a boarding pass that features actual stories and information on former passengers who lost their lives that fateful day in history.  The props within the exhibit are quite impressive and provide a unique experience for everyone walking through.  The second exhibit introduces you to a journey through the human body layer by layer.  This exhibit features actual dead bodies (and no, they are not behind glass) on display to further create an interesting and macabre atmosphere.  Ticket cost for each exhibit run between $27 and $31 per person.
4. Madam Tussaud's Wax Museum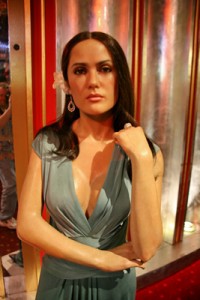 This museum is worth a trip if you like anything related to celebrity life.  The wax figures on display are scary realistic looking and give people a chance to get up close and personal with their favorite stars.  Different wax figure scenes unfold as you make your way through the museum and Ozzy Osbourne, Oprah, Michael Jackson, Elvis and Prince are just a few of the wax characters that can be found within. Because this is a busy attraction, be sure to arrive when they first open.
5. Wet Republic Ultra Pool at the MGM Grand
This ultimate pool party lounge is a hot place to cool off.  If you have the funds to front, you can spend your birthday with some of today's hottest celebrities.  This is a popular place for singles to meet and mingle, and if you've got the money, they feature VIP bungalows and cabanas for rent.  Each bungalow has its own private Jacuzzi and wet bar.  Reservations fill up quickly, so if you're considering a visit, it is best to book well in advance.  Throughout the year they feature a calendar of events such as bikini contests with some of the worlds best D.J.'s.
Tiersa Buckley is a travel writer at CheapHotels.net, which is a U.S.-based site that offers budget friendly hotel information and interesting travel destinations.