Paris is known to be the most idealistic, artistic city in the world which also makes it one of the most expensive to travel in! But don't despair my budget backpacking friends, that doesn't mean you can't find another way, avoiding the pricey temptations. This city can offer you the sweetest escape for the lavish Parisian luxuries without spending a single dime, so get here and explore. There are countless cheap flights, trains or jump on a France ferry, with so many options there's no excuse to delay!. So read through to know the 5 free things to do in this magnificent city.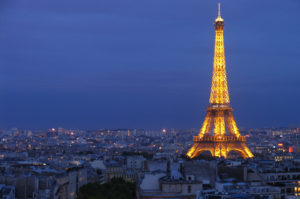 Attractions
Naturally, one of the most famous attractions that Paris is known for is the Eiffel Tower. Heading to the top of it can be quite pricey, but having the sight from below makes for a whole new experience. You can have picnics on the ground while having the Tower as a perfect background while enjoying a glass of wine and the scenery with the locals. At night, the Tower reveals 20,000 glittering white lights every 10 minutes of each hour that makes it a shining shimmering splendid occasion. If you have a taste for history, try not to miss the Notre Dame Cathedral. This basilica is the masterpiece of French Gothic architecture generating it to be the most popular and visited attraction in Paris. You can enjoy a whole day of taking photos in this site without any admission fees.
Arts
The Louvre is one of the most recognized buildings in the world as it is the home of Mona Lisa. The admission to get in is free every first Sunday of the month and visitors under the age of 25 can visit on Friday nights without any cost. Another tourist-desired art museum is the Musée d'Orsay located opposite to the Seine. This museum exhibits the finest of Impressionism and is one of the most visited museums in the world. The entrance fee is waived every first Sunday and always for kids under the age of 18. It also houses the world renowned pieces by Renoir, Sisely, Van Gogh, Pissaro, Degas and many more. Visiting these sites can make you admire art like no other, and you don't have to take a bank loan to do it!
Food/Drinks
Get free and tasty couscous in Les Trois Frères every Thursday night and oriental soup on Sunday nights. This popular local spot has been well-known for over 20 years catering locals and tourists from everywhere across Paris and the world. If you're still hungry the next day, head on to Le Taïs, as they offer couscous for free every Friday and Saturday evening. You can also watch out for the annual week wine and food tasting events of which most are free. This event starts middle of November hosted by Le food. Guess Paris can not only give you the best sites but also give you a taste of a Parisian complimentary sustenance.
In the open
Walking in the shady and overgrown vines of Parc Monceau will take you back in time. It also features the Naumacherie, a famous pond fringed by a Corinthian colonnade. Try not to miss the Jardin Du Luxembourg, a modelled garden in the Latin Quarter that also contains the 1861 Medicis fountain plus numerous 19th century statues that shows off the past era of the city. Locals are fond of this peaceful garden too, as they stay here to relax on a quiet afternoon away from the busy streets of Paris.
Theatre/Music
If you're a music lover, a concert free of charge is offered by the American Church in Paris catering classical music and blues every Sunday at 5pm. This concert starts from September to November and January to June. Radio France also makes 180 free concerts a year; you might be lucky to join this unique event and hear the best music of Paris and see the best of the national philharmonic orchestras and choirs. Tickets for this event are handed out 30 minutes before it starts, so be sure to stay close to the entrance to get the best out of this musical experience.