On a visit to the UK, most people don't manage to escape London. Buckingham Palace, the London Eye, the West End, – it draws everyone in, and rightly so. London is one of the most popular tourist destinations on the planet, and it's easy to see why. However, that's not to say that there aren't other amazing destinations to visit in our beautiful country.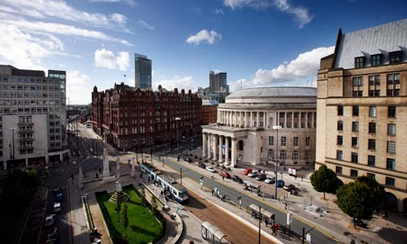 The UK is pushing hard to share some other beautiful places for tourists to visit on their whistle stop UK tours, and we're here to help too. With transport links within Britain having never been so easy, there's literally never been a better time to explore other cities in the UK. The days of long buses are almost over, with lowcost airlines whizzing us around for pennies, and AirportHotels.com supply us with cheap accomodation, we're all out of excuses NOT to travel, so when you hit the road, be sure to visit these five beautiful spots:
1) Edinburgh
Scotland's Capital can rival London for history, and controversially it could be said it's even more beautiful. With Edinburgh castle as the focal point of the city, and the gorgeous Royal Mile dominating the main thoroughfare downtown, you can't move without ancient buildings and amazing photo opportunities.
Don't miss the spooky Edinburgh dungeons for some creepy fun either, and of course a trip to Scotland wouldn't be truly complete with out partaking in the Scotch Whiskey Experience, enough to blow your socks off on a windy, wet afternoon.
2) Bath
Less than one hundred miles from London, Bath is easily accessed from the capital. It's soaked in Roman history, and world renowned for it's relaxing hot springs. The archecticture around the city conjures the images you dreamt of when you thought of visiting England, tea houses, medieval structures and a distinctly Georgian atmosphere.
Both Bath Abbey and the Royal cresecent are absolute must sees during your stop in Bath, and another great tip is to jump on the hop on/hop off tourist bus, it's an excellent way to get around the city, whilst also getting educated on the vast history of the place.
3) Manchester
Often referred to as England's second city, Manchester is a great place to visit. It's young, energetic and hip. Manchester is the one place that can rival London for it's shopping and nightlife, so when you venture north to Manchester get ready to spend some money and party!
If you find yourself with the need for a late night, Deansgate is the place to be. Young, bright young things partying the night away, without breaking the bank for a Long Island Iced Tea. Oh and of course, a trip to Manchester should include a trip to Old Trafford, home to Manchester United, England's second most successful team. Be sure to check out all the great Manchester Airport hotels for a cheap way to organise your accommodation on your stay.
4) Oxford
Made famous for it's world class university, Oxford is drawing more and more tourists each year but a taste of that qunitessential English vibe. It's known to be a haven of hard work, inspiration and endeavour and it's said that a mere visit to the university should increase your IQ a couple of points, which can never be a bad thing!
If possible, visit one of the colleges on campus, and also pay a visit to one of the Chapels. A trip to Oxford should included listening to their beautiful choirs, a sound that you will never forget, with the spires and gothic archecture stretching everywhere, it's an experience like no other.
5) Belfast
A city torn apart by it's turbulent past, Belfast is now booming. Thanks to the political problems Northern Ireland expeirences during the 'troubles', the IRA undertook a bombing campaign and destroyed any hope of tourism, but those days are gone and now Belfast is welcoming people with open arms.
A black taxi tour of the former dangerous hotsports is an absolute must-do, seeing all the political graffiti and hearing some crazy stories makes for an interesting afternoon. Also, a visit to the Titanic quarter is another great trip – home to where the Titanic was built, where you'll hear how the Titanic was "Built by an Irishman, sunk by an Englishman".