Asian countries are more or less, melting pots oozing with rich culture as influenced by ancient traditions, barter of goods from one country to another, and invasions by other powerful countries during the time of war.
The story of influence goes a long way. And we, the people of the present can truly see this manifest in every country's cuisine. And with that, we can also say that Asian foods are one of the most colorful, unique and tasty ones. These interesting cuisines are also now positioned across different fascinating markets, thus making it a good match.
During some of my Asian visits, one of the things I've loved to go to are their markets, hawker spots and just try out some of the unique (but not exotic) cuisines a country can offer. Let's check out some of them…
Kowloon, Hong Kong
Kowloon alone can offer tourists a lot of things, from shopping to food, there will be a long list of choices. Tsim Sha Tsui, the center of it all, houses various restaurants, and even street foods. Even Mongkok, the place of night shoppers are surrounded with tons of street foods that spans from different cultures. there are noodles, fish balls, and even live sea foods that you can just pick and cook it right in front of you.. And the long list goes on. In most occasions, the food you'll come along will just entice you without even knowing what you are actually picking. Since the foods they offer are actually very cheap, it's just ideal to simply plunge in the country's cuisine.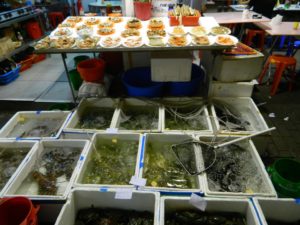 live sea foods up for grabs at Kowloon's night market
Bangkok, Thailand
Compared to other countries where I somewhat had a distaste for their food (yes, at some point it happens to me) that I suddenly feel homesick to the tasty cuisine of Manila. Thailand becomes an exception to that , as in a snap I fell in love to a lot of their foods!  As a tourist, especially for first timers in the city, who could resist the boat market? Boat markets are scattered around the city, not just offering raw vegetables and some fruits, sellers do even cook food from their floating boats. And it's a must-experience I must say.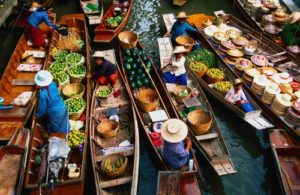 Xi'an, China
Chinatown has been present in various countries all over Asia and other parts of the globe. I thought that Chinese must really have some influential prowess that they have come into this. Just like Kowloon, there are tons of street markets and street foods around the locality. There are varying noodles (which are actually made right on the spot). But one of the best is the city's lamb and dumplings! In the Muslim streets of the city you can find these very prominent. In these same Muslim street you can find food stalls and restaurants that offer varying dumplings which are artistically done on the outside and also with varying tastes.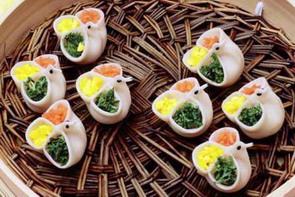 This goes for every traveler who shares the thought "anything new is worth a try!" And these, my friends, are the must tries of the rich Asian cuisine. But of course, there's a lot more. What are your favorite Asian cuisine?