If you're heading to Australia this year I hope that Melbourne is on your itinerary. Melbourne is a city that has many a dimensions, whether it is the hipsters spicing it up, or the cultural heritage, Melbourne is one of the most cosmopolitan, vibrant and fund cities that I have been fortunate enough to visit. Spending time in the city is absolutely fantastic, there's a number of amazing restaurants to visit, sites to see and also an awesome nightlife to keep you busy. I strongly recommend that you head out of the city for a while because Melbourne is blessed with some fantastic destinations that are just a short car ride away. So whether you want to hit the road as soon as you land or get your journey underway from one of the many hotels in the central business district you can rest safe in knowledge that there are some awesome places awaiting you at the end of your drive. If you are looking to head off straight from the airport I would strongly recommend that you take a look at Melbourne airport car hire with DriveNow, I used the company and the whole process couldn't have been easier. Arrivnig at the airport you pick up the car and set off on a fantastic road trip, it doesn't matter if you're not returning to the airport because you can drop off the car at a number of locations around the country, perfect!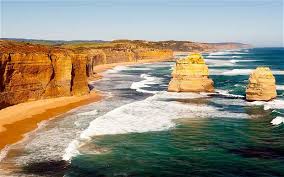 I was lucky enough to be travelling with my brother who also has a driving licence, it's always good to have someone else in the car that can share the driving. We had a lot of time on our hands so we used Melbourne as our base and would head out on day trips and sometimes short breaks at the fantastic places in and around Melbourne. It's tough to whittle down a list of my top three places but I have tried! Let me know if you agree with my selections, I always love to hear about the experiences of other travellers and also pick up some tips about where to go on my next visit to Melbourne. So write your suggestions down there in the comments box below lively people.
Here are my 3 awesome suggestions to make you get behind the wheel in Melbourne and explore:
Phillip Island
This is an absolute must do! It's only a ninety minute drive from Melbourne, it's popular with both tourists and locals. It's got everything you need to have a great day out; pristine beaches, great food, shopping, hiking trails and camping areas. The biggest attraction however are the famous penguin parades, the penguins come up the beach in their hundreds each morning. They are the smallest type of penguins in the world, this of course means that they are also the cutest penguins on the planet!
Apollo Bay
I think this is a great place to spend a few days aways from the city, I loved it because it's on the Great Ocean Road which you need to drive on at least once in your lifetime. It's very green here but you will also have the chance to explore a number of super swimming beaches as well. You will have the car with you so you will be able to visit the Cape Otway National Park which is very close. All in all it's a great place to relax, check out one of the rental cottages if you are with a group of people.
Yarra Valley
Ok, so you won't be able to drive back if you indulged in the wine tasting like my brother and I. It's not the closest place to Melbourne but it is well worth the trip. There's nothing better than heading off in your car to experience for your first wine tasting session(s), if you're a seasoned pro then you are going to love it even more. Fantastic views await and of course some excellent Australian wine.
St Kilde
Go there, get drunk in St.Kilda, we know a list of bars that aren't very touristy!.
Bonus tip : Check out this coffee shop in Melbourne! Trust me, you'd love it!